Comparabit is reader-supported. When you buy through links on our site, we may earn an affiliate commission.
Air mattress offer a comfortable sleeping surface when camping. Apart from that the support that it provides should also be considered. Have one that is durable and can withstand different weather conditions so that you can have fun without worrying about your sleeping environment. This list educates one on the best and their features so that you can place your order with confidence. Utilize it and save time and money.
10. Intex Cozy Kidz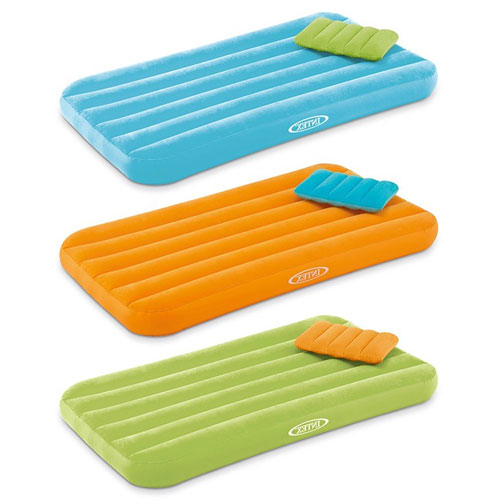 Sleepover or camping with this air mattress will be enjoyable as it takes less time to inflate with a pump and is also a space-saver. Kids will love the three vibrant colors that are available for them to choose. It has a pillow with is also inflated so that it offers a comfortable sleeping environment. The tight locked top makes it ideal for different seasons. The elastic locking also enhances its comfort.
9. Coleman Airbed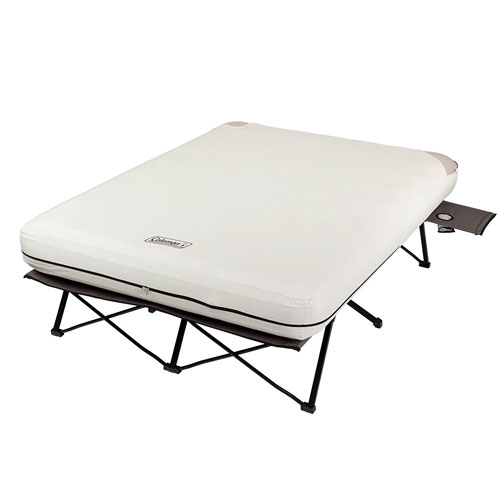 This item comes with a cot so that one can have an elevated sleeping space. The bed and airbed are separate so that users can have a double capacity. It has a versatile design so that it can be ideal for both indoors and outdoors. The durable steel frame holds up to 600lbs. the table has two sides. The one hand with cup holders and personal items can also be kept there. There is also a 4D pump included so that inflating and deflating it can be easy.
8. Aerobed
This mattress has been specially designed for kids and has a dimension of 50'' by 25''. It has a four-inch high surround cushion that helps children not fall off when sleeping on it. It also comes with a thick and washable pad that has a beautiful moon and star design. The pad has already been fitted. The pump that is also in the package takes less than a minute to inflate it and 15seconds to deflate. It has a heavy duty PVC construction with electrically welded seams.
7. Insta-Bed Queen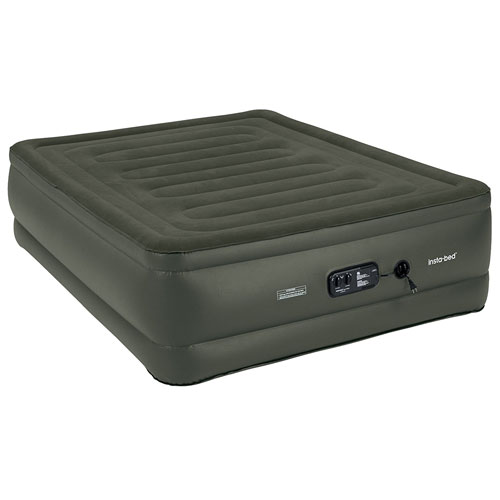 Get a firm and comfortable sleeping surface when you choose this item thanks to the secure air dual construction on it. The unique design gives it stable edges so that it is easy to get in and out. It has a standard height of a regular mattress with a sure grip so that it does not slide. The dual pump inflates and deflates both inner and outer chamber independently and takes a short time. It has an inbuilt storage cup.
6. Intex Classic Queen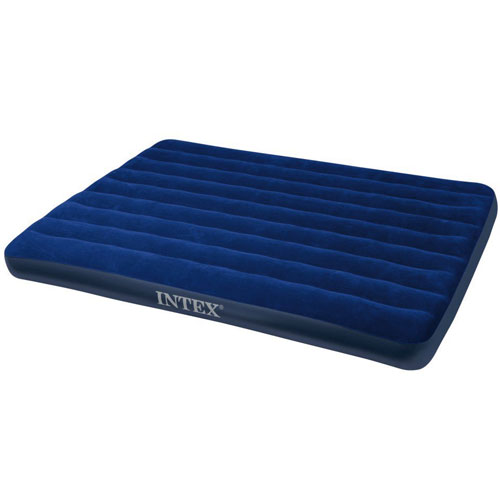 This product has been crafted with heavy duty vinyl and wave beam construction so that it can offer comfort and durability. The firmness of the material lasts for some time after which it starts to relax. One should use a two in one valve pump to inflate it within a short period. Camping will be enjoyable knowing that you have a safe sleeping surface. Get it and start benefiting from its incredible features.
5. Intex Pull-out Sofa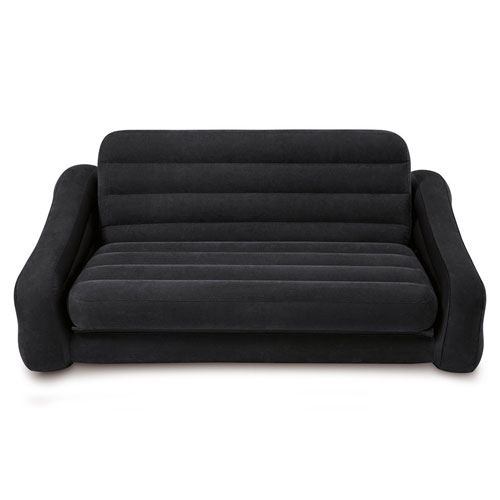 Relax anywhere with index pull out sofa whether at home or camping. After relaxing just pull out the cushion and you will get a queen size air mattress for sleeping on. It accommodates two adults. The two quick inflate and deflate valves offer convenience so that it takes a short period setting it up. The firmness of the vinyl material used in making it will depend on the temperature location and humidity.
4. Sound Asleep Products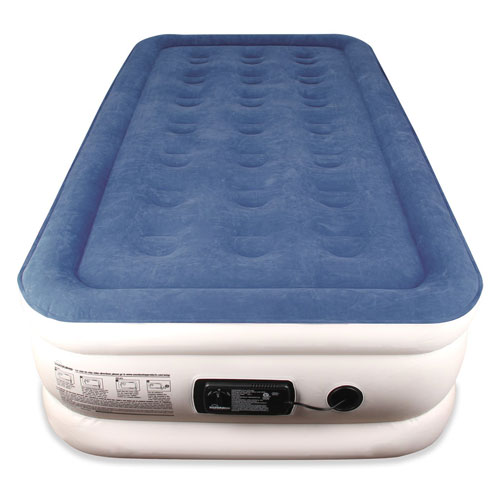 This product has been designed with comfort coil technology. It has 21 internal air coils that add to its durability and support so that it remains firm as you get a conducive sleeping surface. It has an extra thick waterproof flock and a multi-layer puncture resistant material. Have easy and fast inflation with the patented one click pump that it comes with. There is also a carrying bag for an ample time when traveling with it.
3. Intex Comfort-Plush Elevated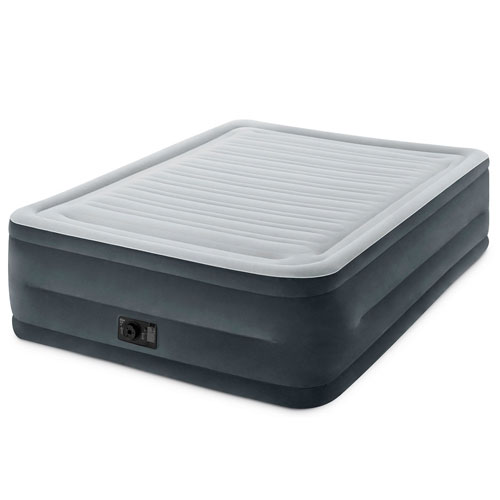 The fiber tech used in engineering this mattress makes it a top performer as it provides stability, long lasting comfort, and support. It has a tight flock top that is raised up to 22inches and indented sides to keep the sheets fit from slipping. Save money as it comes with an inbuilt pump that is easy to operate and takes just five minutes.
2. Intex Dura-Beam Series Raised Downy Airbed
For easy storage and transportation, this airbed comes with a carrying bag that you can utilize. It takes two to three nights for it to settle so when it loses pressure it is because of its stretching out. It has an inbuilt electric pump for easy operation, and the sides have been indented so that sheets can fit properly without slipping.
1. SoundAsleep Dream Series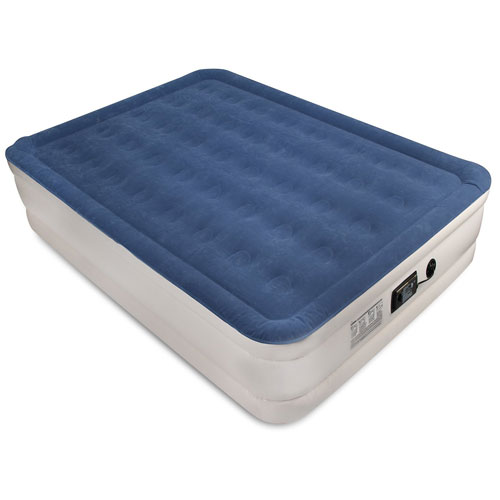 This is the best air mattress, and it's because of the fantastic features that it has to offer. Get it and start enjoying a comfortable sleeping surface. It has 40internal coils that enhance its support and durability. It also has an internal pump that inflates under 4minutes. Its waterproof flock is extra thick with a multilayer puncture resistant material. Forget unwanted sliding as it has a sure-grip bottom to prevent that.
Conclusion
The air mattresses in this article are of high quality and are easy to carry around when going for camping. They quickly inflate or deflate using a manual, electric pump. Get the ones listed here as they will not let you down on quality, functionality, durability, and performance.