Comparabit is reader-supported. When you buy through links on our site, we may earn an affiliate commission.
A bike pump is a basic and necessary tool when it comes to personal bike maintenance. A bike pump's main and obvious role is to fill the tyres with air. This may seem like a simple enough function, but it can be an arduous task to find the best bike pump for your bike. This article will review ten of the best bike pumps in the market today. Ten, however, is a lot of options to choose from. The best way to choose the most appropriate bike pump is to first consider the type of bike pump most appropriate for your bike. There are many different pumps available in the market today such as shock pumps, track pumps and hand pumps. The frame pump is popular with touring and steel road bikes while the hand pump is good to have on hand for emergencies. It is always good to go for quality over price when it comes to choosing the best bike pump. An important note to consider when determining the appropriate and buying a bike pump is your valve type and size. However, most of the pumps below work with different valve sizes.
The following are ten of the best bike pumps that we recommend.
10. The Lumintrail Mini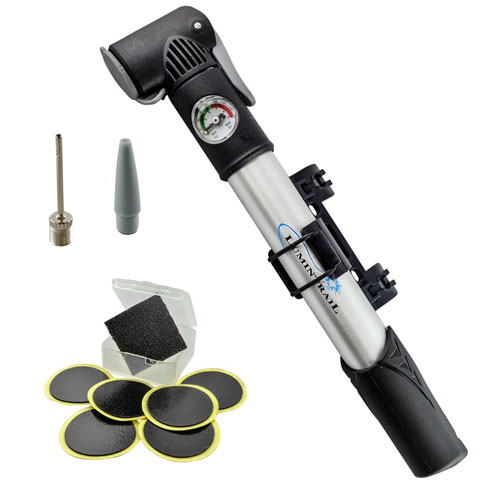 This pump is lightweight, but efficient. It has its own pressure gauge built in. As a bonus, you get a puncture repair kit which is also lightweight so you can carry it around along with the pump. Though small, it can measure up to 120 psi, higher than most larger pumps on this list. The barrel is made up of aluminum.
9. DigHealth Hand Pump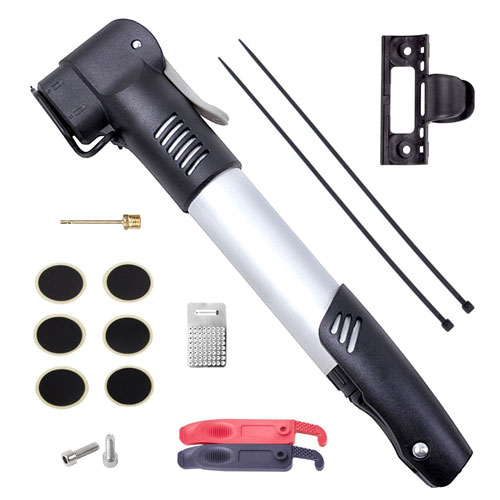 Another mini pump you can carry around with you, this DigHealth pump is ergonomically designed in a sleek grey aluminum and black design. The pump is designed such that it is can be extended to 16.5 inches from its regular 9.1 inches. This is to cater for people of different heights and is a concept that is rare for bike pumps. The aluminum alloy ensures no air leaks out.
8. LEOKOR Frame Pump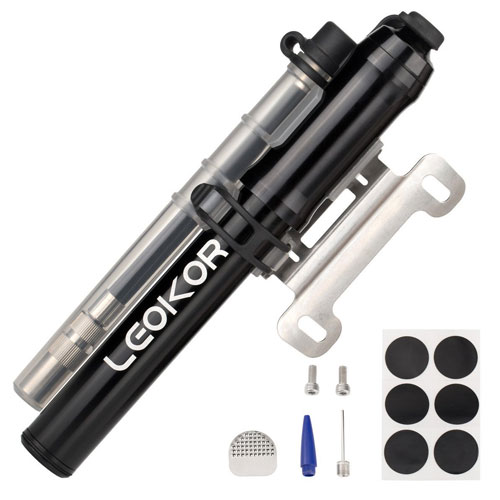 This pump has an excellent sleek design to it that resembles a rocket. It is ideal for heavyand seasoned bikers. It has a maximum pressure of 260 psi larger than any other bike pump on our list. You get a frame which you can use to mount on your bike. The pump is efficient in that on both a push and pull, pressure is inflated into the tyre. No ounce of energy is lost.
7. Malker Portable Bike Pump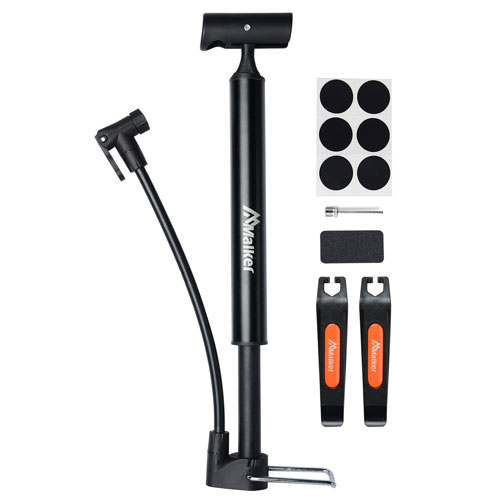 This pump is a slightly larger pump than the rest but just as portable and effective as the rest. It comes in two colors, black and silver which you can choose from. This pump can be mounted using a bracket which accompanies it, and it can also be carried around in a biking bag. The seller offers a 5 year money back guarantee just to show their confidence in it.
6. Bell Air Attack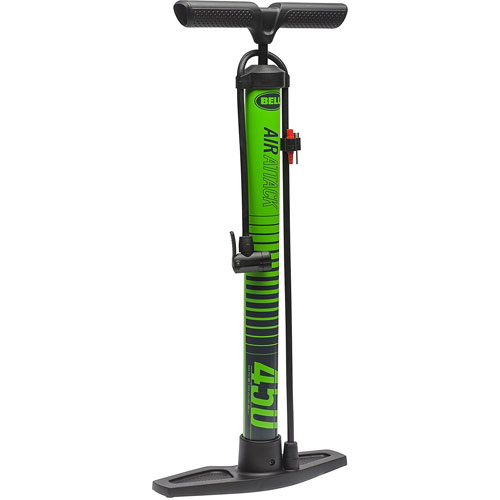 This colorful creation is heavy-duty and is not ideal for carrying around. However, it is versatile and has a large handle and base. It can be used as a home bike pump for your kids to get their tyres pumped before going out for a rdid. They will especially love the bright color it comes in. Adults can put in a biking bag and carry it with them.
5. AerGun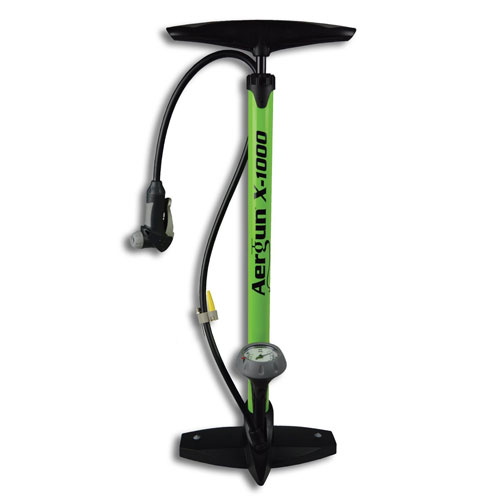 This pump is a bit on the pricier and heavier side which means that carrying it around is not the best option. However, the pump head is one of the best in the market today. It also has a reliable pressure release system when you our inflate your tyres or just want to reduce the pressure in your tyres. With power of upto 160 psi this pump helps you use less effort and strain.
4. BV Floor Pump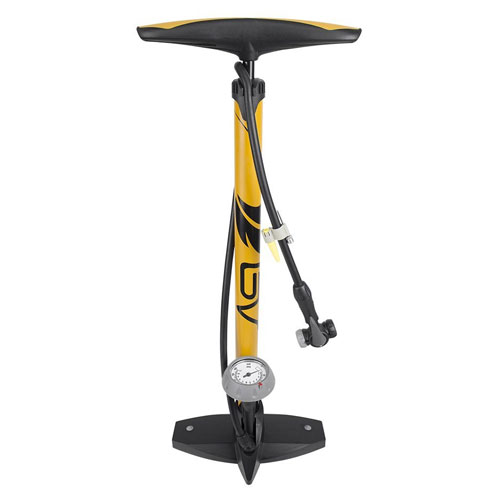 This pump is another large one, but had a ergonomical design. This large design ensures stability during pumping. One of its best features is the 360 degrees pivot. This makes pumping easier and your children will find this pump easy to use. Don't let them carry it around with them, although this is hardly possible with this 2 pound creation. Professionals will find this a handy tool to have in their bag.
3. Schwinn Floor Pump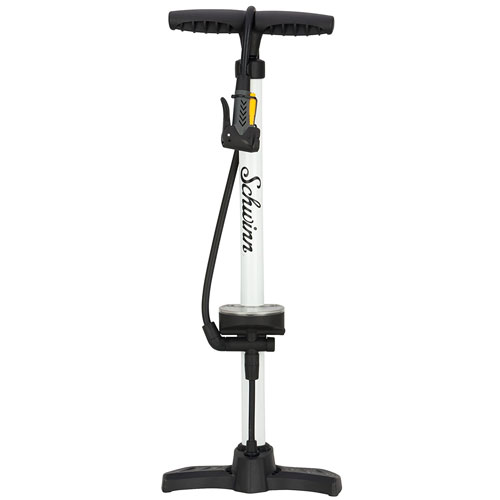 This pump has an extra large base which makes pumping easier. It is ideal for children and professionals alike. However, it is not portable as it weighs almost 3 pounds. This is a pump which you can have on hand in your garage for regular servicing of your tyres . Just like most pumps in this review it has two valves for versatility.
2. Topeak Floor Pump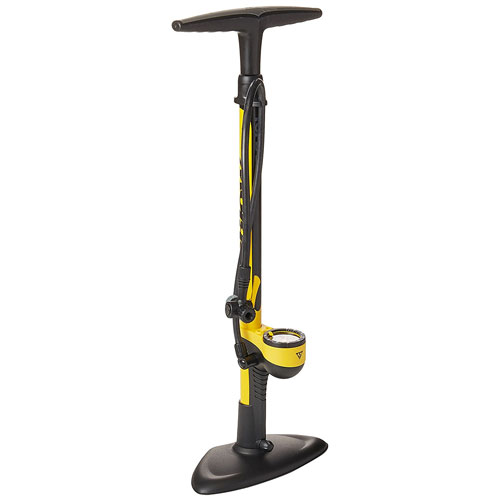 One of the most prominent features about this pump is the easy-to-read gauge. It comes in a classic yellow color and though it looks complicated, is easy to use for beginners. This pump boasts use by both amateurs and professionals and this is because of the high quality of materials used in making it. It also has two valve options making it great for different bike types.
1. Performance Bike Floor Pump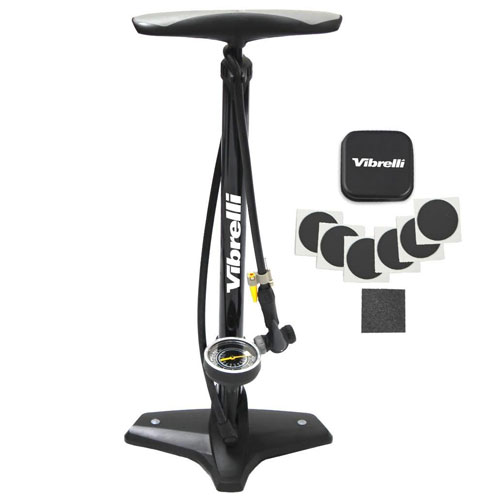 This has everything you need in a pump, a visible gauge, dual value options, easy to use and carry around. It has an excellent professional grade puncture kit that does not use glue, as an added bonus. Even if you do find yourself stranded with a puncture, its psi of 160 will ensure you quickly solve the issue and get back on the road. It's not very big, but also not small though it can fit in a large biking bag.
Final Thoughts
Whichever pump you choose, all the pumps listed above are efficient and easy for even beginners. If you are starting out, go for the lighter weight pumps which will still provide you with the usage and service you require along with value for money. However if you are a heavy user, then several pumps on this list will most certainly appeal to your needs and preferences. Whatever you do, do not let this day pass by without you adding one of these pumps to your shopping cart and checking out. You will thank us later when your shipment arrives and you can test your choice out.