Comparabit is reader-supported. When you buy through links on our site, we may earn an affiliate commission.
We all love our 4-footed furry feline friends, and we want to make them happy but…
We also want to keep them healthy by letting them run about, frolic, stretch, and sharpen their claws. However, we have to balance all that with protecting our furniture and other things like our drapes, carpeting, and our furniture from those activities. That's why today we are going to look to Amazon and come up with the 10 best cat scratching posts they have available. After you have looked them over you can choose the one that suits your cat and your lifestyle best.
Not all cats are the same, so we have provided you with a wide selection of materials, shapes, and sizes that will entice your pet to focus on their post instead of your armchair when the urge to scratch come on, so let's beginning our tour of the world of cat posts.
10. SmartyKat Scratch Sisal Scratcher
Made with an all-wood base the forms a cat ramp and covered with a sisal scratching pad. Your cat now has the perfect place to sharpen their claws, play on as well as a comfortable place to nap.
It also comes with organic catnip that enhances your cat's fun and lures her/him away from your furniture.
Now, your cat has their own place in the sun to play and relax on, and you have peace of mind knowing your favorite easy chair will remain unmarred by tiny claws.
9. Cat Furniture, Cat Trees & Cat Scratching Posts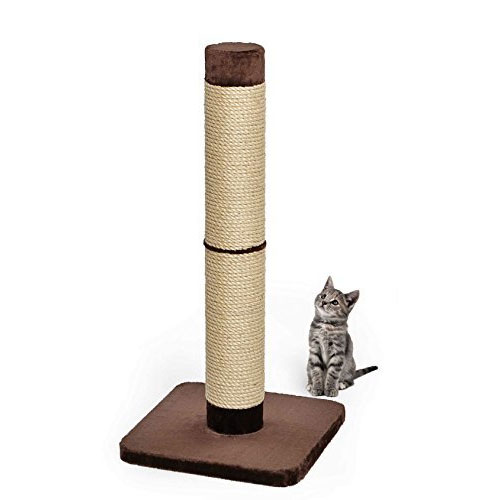 This cat post is suitable for larger cats as it would not topple due to its larger base. The post stands 41 inches high and is wrapped with sisal rope that lets them take out their Urey to sharpen their claws and stretch.
Therefore, it protects the furniture in your house and also provides hours of amusement for you has your watch your cat play like a kitten again.
So, this is a triple win for you and your pet as your feline keeps in shape, your furniture is protected, and you have fun that does not include using your smartphone.
8. Premium Cat Scratcher by GoPets
This cat scratcher is in a unique wedged shape. It has 2 large holes for your pet to poke around in and you can tease them from. The top edge allows a cat to lie out on and use it to sharpen their claws.
This is your pet's new fun station that lets them play for hours and keeps their thoughts off using your sofa as a scratching post.
Not only is it green in color it is also green in manufacture as it uses recycled cardboard and when your cat finally demolishes it has not raised your carbon footprint in the slightest.
7. Petstages Soothing Cat Easy Life Hammock and Scratcher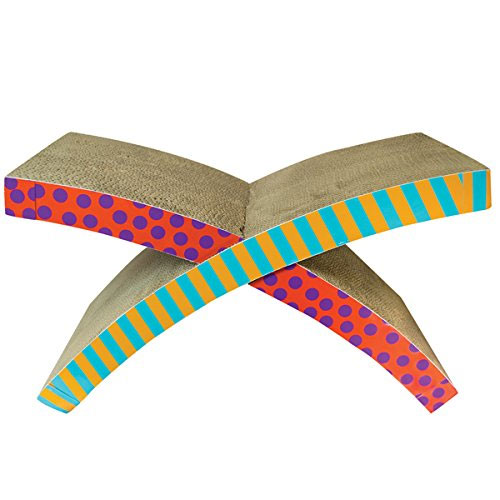 Here is a combo cat toy for your favorite feline. They can flop on it and are the lords of their kingdom. It also lets them use it to satisfy their need to sharpen their claws. So, you have a multi-use piece of cat furniture that is an enjoyable place for your cat to play and also saves wear and tear on your more expensive furniture.
Attract your home's little master to it with the provided catnip and they will stretch out on its unique Flattened X design and they will be happy and content to leave the rest of your furniture alone.
6. PetFusion 3-Sided Vertical Cat Scratcher and Post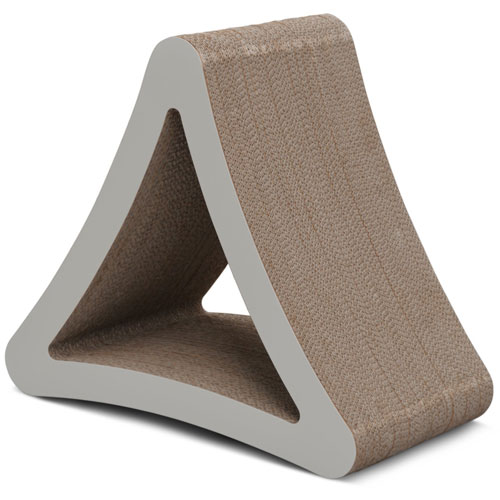 Shaped like a concave 3-dimensional triangle that lets your cat have fun and protects your furniture from your pet's claws. Sturdy enough for you to stand on your feline will get hours of fun and even something to lay across.
It is covered in recycled corrugated cardboard and will stand up to all the roughhousing your cat can dish out.
Add a little catnip, and you cat has found their favorite hangout spot where they sharpen their claws instead on your home's furniture.
5. Four Paws Super Catnip Carpet and Sisal Scratching Post Cat House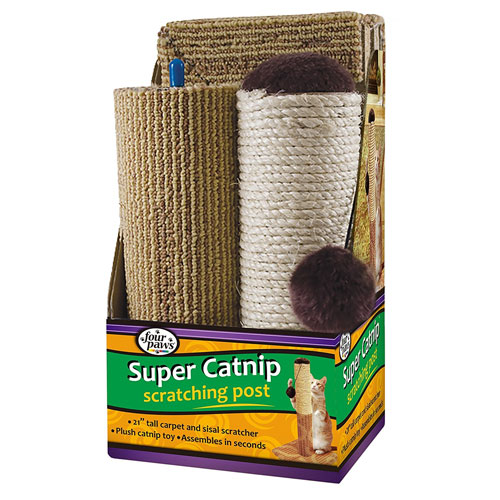 Only 21 inches tall with a fluff swatting toy on the top you have a two-surfaced cat scratcher that has a rope surface along with one that is carpeted.
The Four Paws then offers you Feline Friend Forever an amusement center to let them take out their urges on and save you from finding shredded furniture and draperies let in their wake of a romp through your home.
Seeing a Siamese run the walls when they are of a mood, while fun to watch can be hard on the furniture. With one of these, your cat hits this first instead, of running up your curtains or screen door and stopping a moment to sharpen their claws on your living room sofa.
4. TRIXIE Pet Products Parla Scratching Post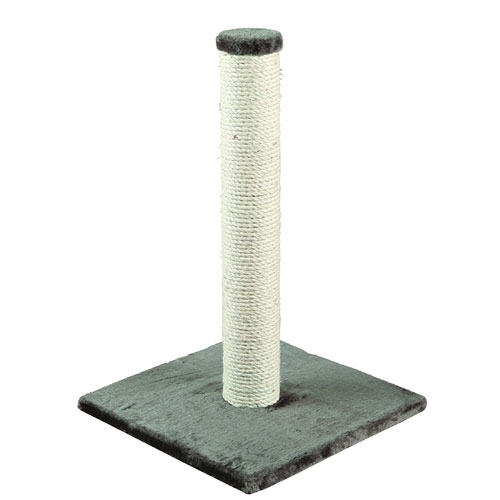 Here you have the traditional pole Cat scratcher that is wrapped with a hemp like rope material from Mexico called Sisal. As you might expect with a little catnip to spice it up and your cat will be in feline heaven.
They will purr and play with it for hours and not only is it fun for them it keeps their claws sharp and healthy. Needless to say, it also keeps your furniture and draperies in a healthy condition as well.
As a bonus, you can place it where it is visible, and you have your own cat entertainment center with which you can spend hours watching your cat play.
3. Catit Scratcher with Catnip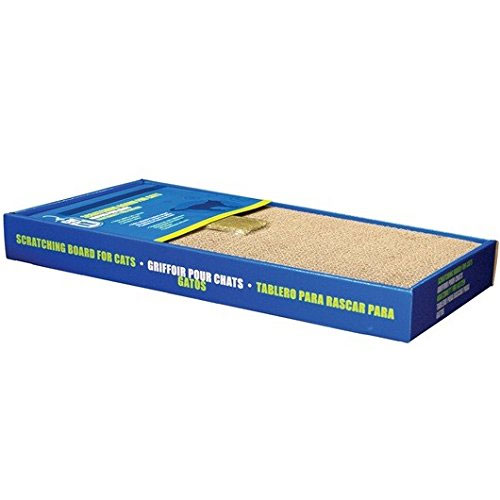 Cats are territorial predators. However, we love them. But, owning a cat can have a few downsides. The biggest downside is being able to redirect their urge to sharpen their claws.
Unfortunately, they seem to gravitate to your living room couch or sofa. So, in order to protect this most expensive piece of furniture Catit has come up with a simple solution.
You place one in an inconspicuous spot and add a little catnip. One of their Scratchboards on the floor and you living room furniture is protected. Your Cat will use the board instead of the banisters, carpeting, and furniture in your home.
2. Catit Style Scratcher with Catnip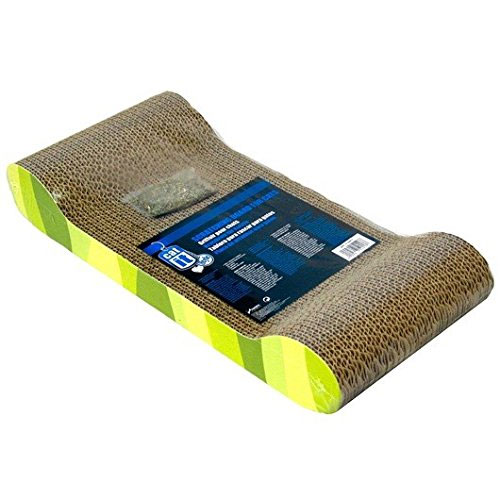 Looking like a comfortable lounger or bed for your cat this horizontal Scratching post provides a necessary function in a cat's health. It allows them safely sharpen their claws and alleviates the need to have your pet de-clawed.
Applying a bit of catnip now and again lures a cat away from your husband's prized comfortable chair and lets them use their instinctive urge to sharpen in a location that would get hubby up in arms or save your expensive living room drapery.
1. Pioneer Pet SmartCat The Ultimate Scratching Post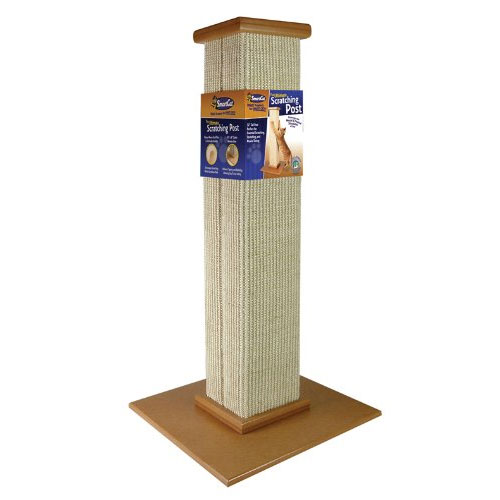 32 inches in Height, which means you cat gets a full stretch here instead of on your curtains, side of your couch, and the stairway Bannister, which with some cats you can see being whittled away in what seems to be days.
This cat post has a wooden base, and the post itself is covered in Mexican Sisal, which is tough and used to make throw rugs in the southwest. Therefore, it will stand up to you favorite feline's claw sharpening regime. So, when it's all said and done, your cat will ignore your furniture. With a bit of catnip will make the SmartCat its favorite place to work out their claws on.
Final thoughts
Cats need to play. It is also in their nature to stretch, and sharpen. Today you've seen our list of top-ten cat scratching posts that do just that.
Now all you need do is click you mouse. You can have your choice in your home. Then your furniture is protected, and your cat has something to do besides lying around the house all day.
Your furniture will be happy, and your cat will be happy as well.