Comparabit is reader-supported. When you buy through links on our site, we may earn an affiliate commission.
Garden sprayers are necessary for spraying fertilizers, herbicides, pesticides and even water. They have different capacities. The attributes that one should look out for are the ease of filling and cleaning them, the comfort that their handles have to offer, and their compatibility with the various fluid garden supplies among others that have been discussed in this article. Get the best from this list that I have come up with and start keeping your garden beautiful and healthy.
10. Chapin 61500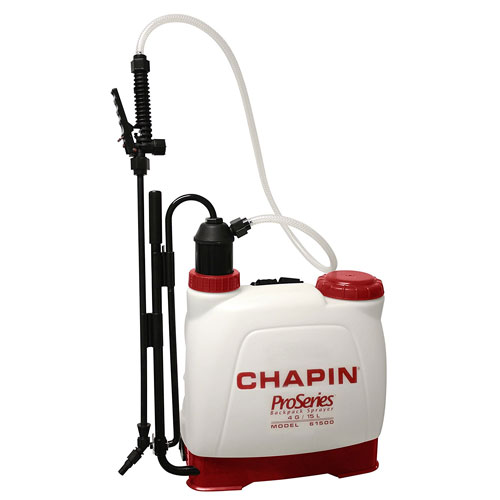 This sprayer has a capacity of 4gallons, and one can use if for pesticides, fertilizer, and herbicides. It has a 4inch wide mouth opening and it translucent for easy cleaning and filling. The traditional look on it matches with the backpack design. The shoulder straps have been padded so that you can be comfortable even when using it for long hours. The two stage filtration at the top and at shut off is for preventing clogging.
9. Roundup 190260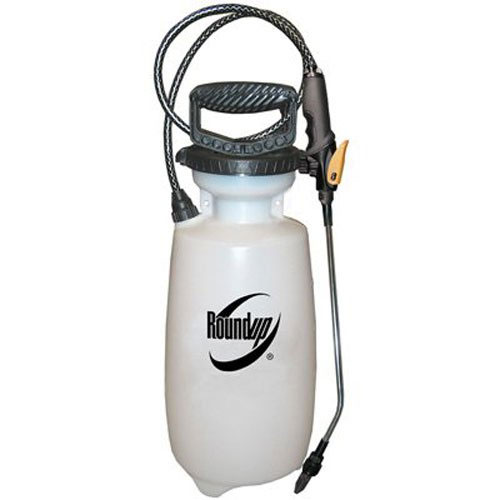 Enjoy using this product that has three simple steps of functioning. The steps are filled, pressurize and spray. The safe pressure release cap on it ensures that vapor and liquids are sent down before the top is opened. Use fewer strokes when using this item and save both time and energy. It comes with three adjustable nozzles so users can get the ideal one for them. The premium shut off and the comfort grip on it enhances its performance.
8. Tabor Tools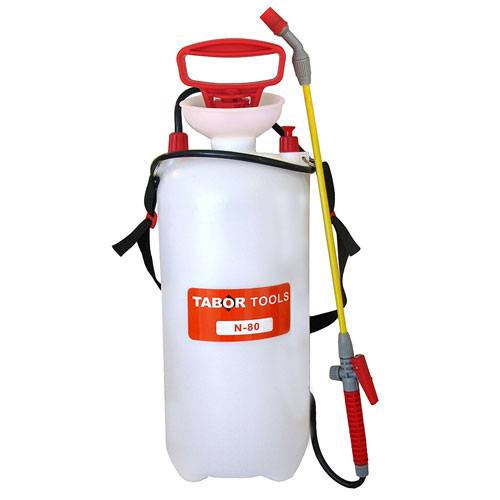 The practical sprayer wand that this product comes with enables you to work standing straight as it has a better reach. It has a comfortable grip handle with a shut-off valve that gives a constant flow when you are resting your hand. Have an easy time filling it up with no mess thanks to the funnel top that one simply unscrews and starts filling. The fluid level will be visible because the sprayer is translucent.
7. Chapin 63985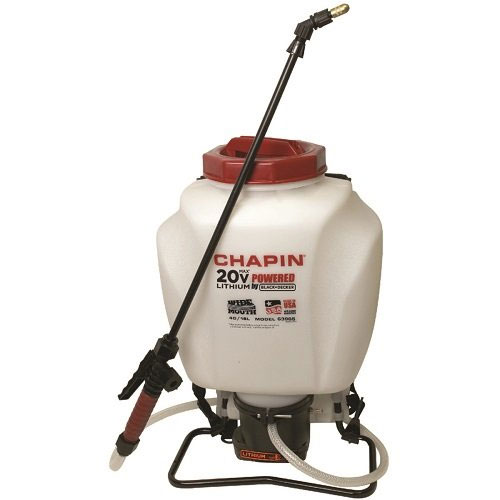 Have long hours of spraying with this item that comes with black & decker a 20V lithium ion battery. The six-inch wide funnel mouth on it gives one an ample time when filling it. The three nozzles make it have a broad range of application so that the garden can be beautiful. It also has a 35-foot horizontal spray stream and a 35-40 PSI. Forget about debris clogging the nozzles as it has a cushion grip shut off.
6. Chapin 26021XP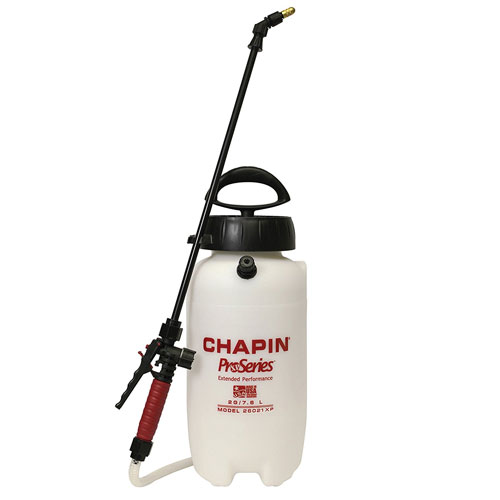 This poly sprayer has a capacity of 2-gallons and is translucent. Its handle has been ergonomically designed so that it offers easy pumping and carrying. The cushion grip shut off gives an excellent 3-stage filtration to prevent clogging. The three nozzles that it comes with makes it multifunctional. Chapin is compatible with a broad range of weed killers, fertilizer, and herbicides.
5. Chapin 20002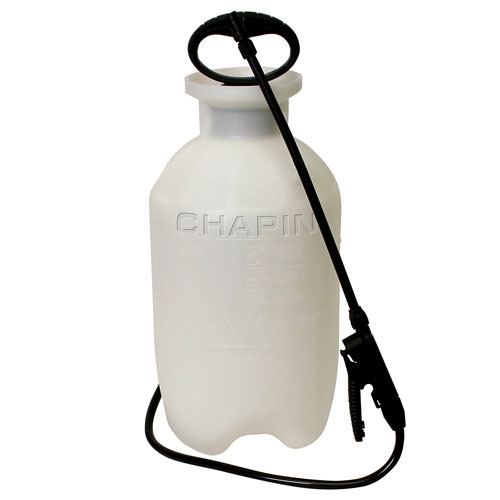 Eliminate clogs when you choose this sprayer that has been equipped with sure spray anti-clog filter that sifts through any debris for a steady stream. It has a wand and an ergonomically designed handle with a clip on it for holding the wand when it is not in use. The shut-off design lets one enjoy long hours of spraying. It has a capacity of 2-gallons with a translucent color so no more guessing when it is time to refill.
4. Smith Contractor 190216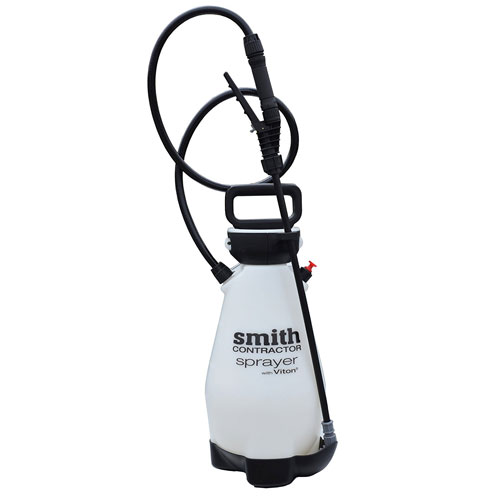 Spraying harsh chemicals has been being now comfortable with D.B. Smith Sprayer. It has a chemical resistant commercial grade poly wand and a professional shut off. The shutoff is lockable to reduce hand fatigue with an in-line filtration system that is easy to clean. A nickel brass poppet gives it strength and precision. The pressure release valve safely releases pressure before the pump is opened.
3. Chapin 61900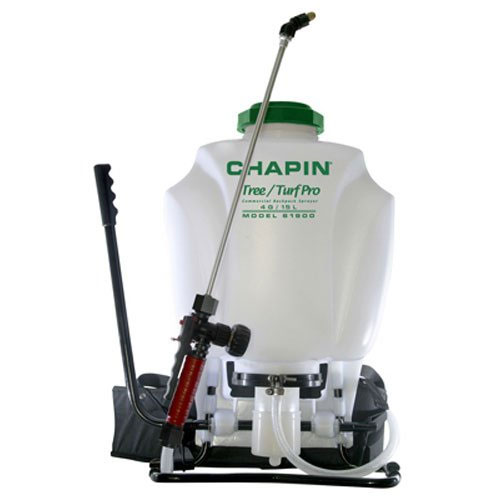 Carry this backpack sprayer for long hours as it has padded shoulders for comfort. it has 3nozzles for multiple applications. The three stage filtration system extends its service life because there will be no clogging and a steady flow of fluids. The stainless steel wand enables one to operate it without bending since it has a broad reach. It requires a simple assembly, and it gives an excellent performance for both experts and beginners.
2. Smith 190285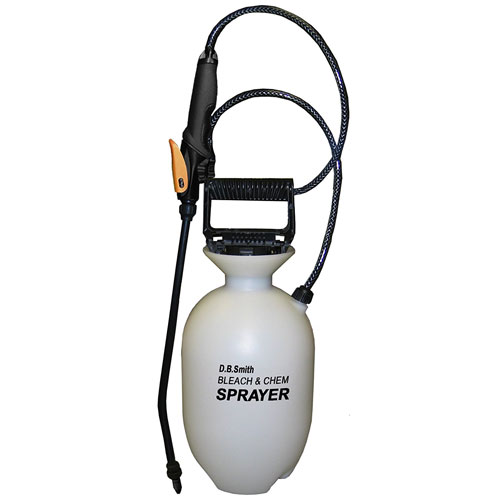 This product has a capacity of 1gallon that you can utilize. It is efficient and adjustable so that it can suit a broad range of users. The high-quality materials used in its construction ensure that it does not corrode and consistently gives a good performance. It has a chemical resistant commercial grade poly wand and a professional shut off. The shutoff is lockable to reduce hand fatigue with an in-line filtration system that is easy to clean.
1. Chapin 20000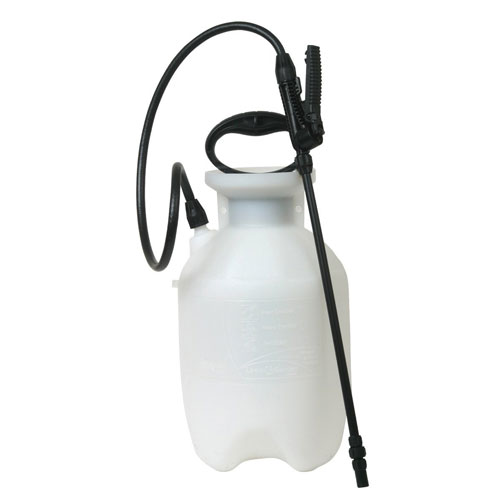 This is the best sprayer that most users love. It has a capacity of 1gallon and features the sure spray anti-clog filter. With the 12inch wand and the 28inch reinforced hose be guaranteed of having a high performing tool that meets the gardening needs. The nozzle is adjustable, and the handle is ergonomic so that carrying it and spraying can be easy. The tank is also lightweight and rust-free.
Conclusion
Meet all your gardening needs with the sprayers that have been featured in this article. They offer functionality, safety, quality and high performance that most users look for in a good item. Utilize this article and save yourself the trouble of going through long lists to find the best.