Comparabit is reader-supported. When you buy through links on our site, we may earn an affiliate commission.
A glue gun is a device used to dispense hot glue or adhesive. Although glue guns were made for use by professionals such as dressmakers and those in the shoe making and repair industry, they can also be used for recreational purposes. The World Wide Web (primarily Pinterest) is full of ideas on DIY for your home and a lot of these ideas could do with a good quality glue gun. Some of the characteristics of a good glue gun include a compatible hot melt glue to go with it and should be made mostly of a heat proof material in order to avoid burning. The adhesives themselves are not melted, but do melt once exposed to the heat from the glue gun. It is important to use the right glue gun as too high temperatures will make the glue too melted and not higher enough temperatures will make the glue brittle. If you are using it on clothing, especially, then it will not melt as it should and will not work correctly. Read on for a list of the top ten glue guns currently in the market.
10. Best Hot Glue Gun (BONUS 25 GLUE STICKS INCLUDED) – Heavy Duty 20 Watt Rapid Heating Technology – 100% Safe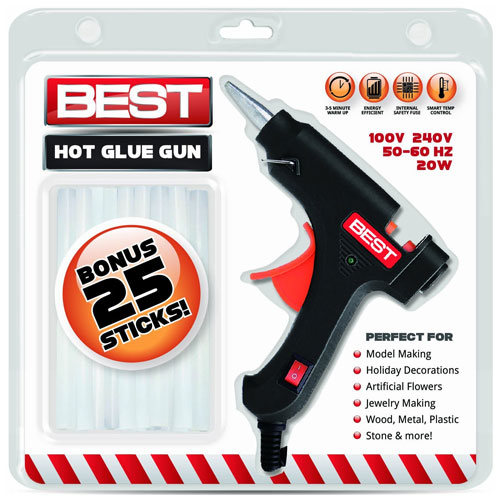 This brand of glue gun is excellent if you're looking for something light duty to fix things in your home or for those home DIYs. It is easy to use and comes with 25 free glue sticks so you don't have to find a compatible glue stick. It also has rapid heating technology and is safe to use, you don't have to worry about wasting energy.
9. Newacalox Mini Glue Gun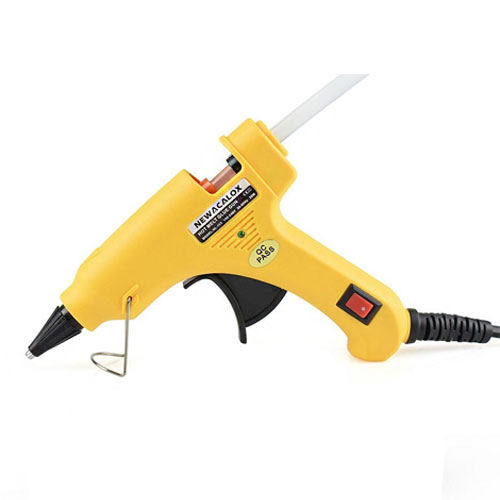 This glue gun is one of the best. It is very easy to use with only two switches which you can operate with two fingers. The nozzles are insulated, a star quality as most glue guns do not come with heat proof nozzles.
8. Anself Cordless Glue Gun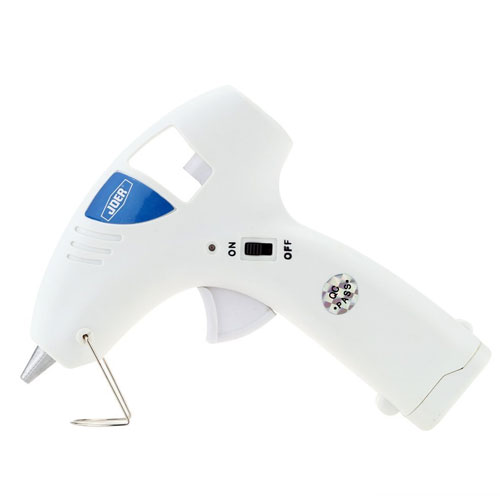 This glue gun is cordless and provides an great grip with its ergonomic design. It is very simple to use and the cordless nature makes it easy to carry around as you wrap boxes up and go about your DIYs. It comes with 50 glue sticks free of charge.
7. Overfly Professional Glue Gun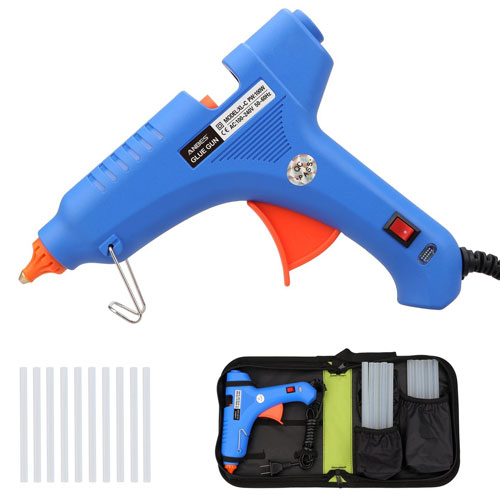 This gun comes with only 10 glue sticks as a bonus but with a bag which you can use to carry the gun as well as the glue sticks. One of the best features of this product is that it comes with a stand which holds the glue gun steady while it is standing. You can know when it is heating as the light goes on. It has an interchangeable nozzle that is heat proof.
6. Soaiy Glue Gun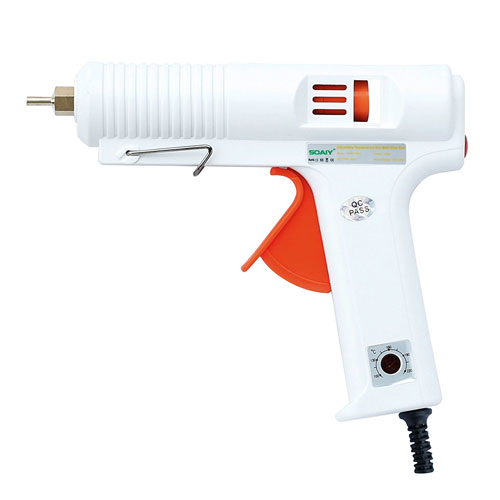 A great feature of this gun is that it has a switch for adjusting the temperature such that you can use it for high heat and low heat glue varieties. This makes it versatile and great for a heavy user. It can also be used for computer electronics repair if you do such kind of work professionally.
5. Ragnaros Glue Gun Kit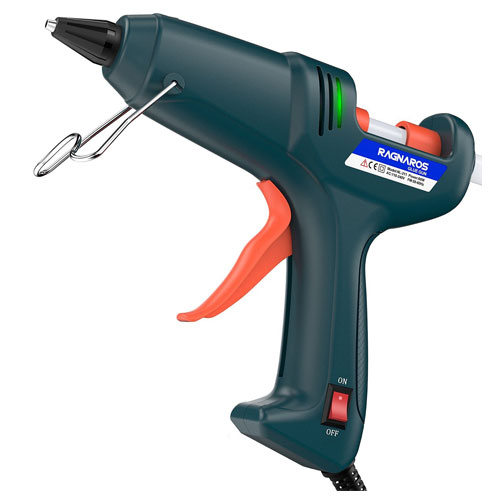 This kit is a best seller and it's easy to see why with its smart temperature controls and the high wattage which keeps the glue hot for long and ensures it goes on smoothly on your chosen surfaces. It has a safety on and off switch.
4. Blusmart Industrial Glue Gun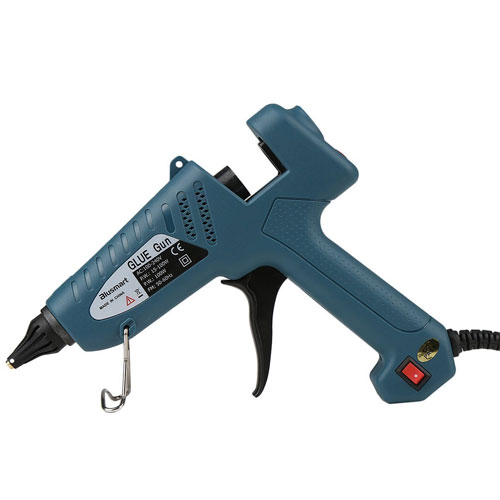 This glue gun is a heavy duty item which can be used for heavy industrial use though it comes in a compact package. It is another best seller. It comes with its own industrial glue which is safe for the environment and also very strong. If you need to fix furniture and do other heavy tasks, this gun will be a good choice.
3. Surebonder Pro Industrial Glue Gun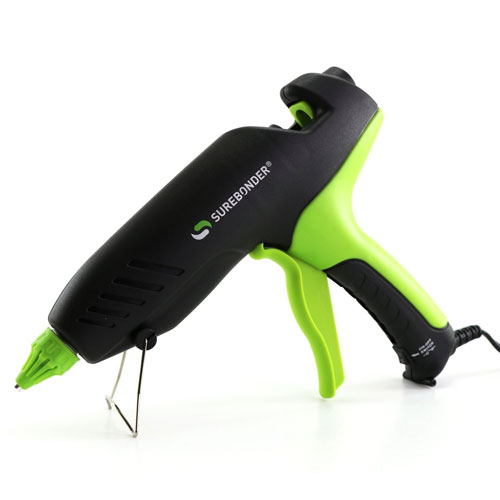 This is a powerful glue gun which is both efficient with its high wattage and also ergonomically designed to make it comfortable to use.
2. BST Power Glue Gun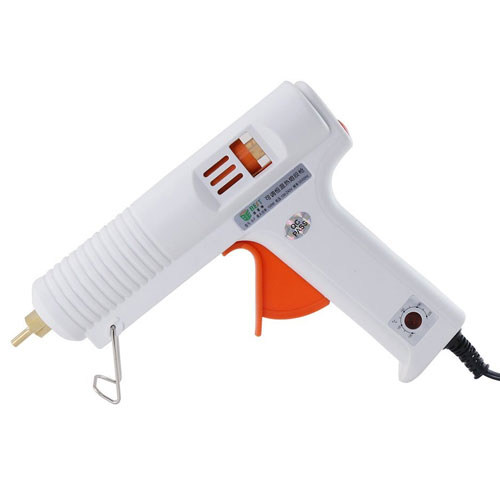 This glue gun is great because you can adjust the temperature depending on what you are using it for. It is also high powered and good for heavy use.
1. CCbetter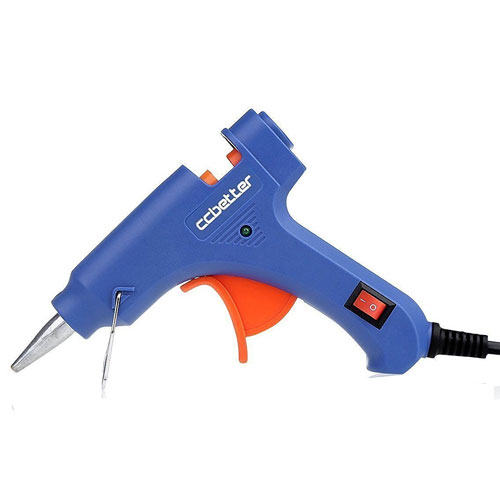 This glue gun is great for heavy and lightweight use. It heats over a short time and the glue retains that heat well. Can be used on metal, glass, wood and pladtic as well as fabric.
Final Thoughts
Some cautions if you buy any of the above glue guns include checking the nozzle before each consequent use for old glue residue. This is very important. Second, it's crucial to check if an old glue stick is finished before adding a fresh one. Always make sure the surface of the glue gun you choose to work with is heat proof. Hopefully you got a great option from the glue guns listed above. Always follow the safety precautions for each glue gun as well as general ones such as not giving it ro children to operate. If you are still undecided, just go for a light duty and cheaper option and if this doesn't work then you can always sell your old glue gun on Amazon and buy a new one. Especially if you're new, you'll need to try out different glue guns to see if they meet your specific needs.