Comparabit is reader-supported. When you buy through links on our site, we may earn an affiliate commission.
Are you planning to get a handheld stabilizer for camera video to improve the quality of the videos and photos you capture and record? If you do, you will want to ensure that you get a stabilizer that will deliver the best results. After all, this is the only way to ensure that you deliver the best videos.
So, how do you ensure that you get the best gimbal from the variety on the market? You will need to ensure that your handheld stabilizer features durable materials, it is easy to assemble and disassemble, you will want a compact and lightweight stabilizer, and one that is versatile to help you hold a variety of cameras.
The difficulty that arises when trying to shop for one of these is that you will take a lot of time comparing the models available to get a stabilizer that can offer these qualities. To help you make a fast decision, we have reviewed best handheld stabilizers for camera video that fulfill these requirements.
Keep reading and eliminate the task of researching for gimbals that fulfill the qualities the best stabilizer should include.
10. Neewer 4-in-1 C-Shape Rig Handheld Stabilizer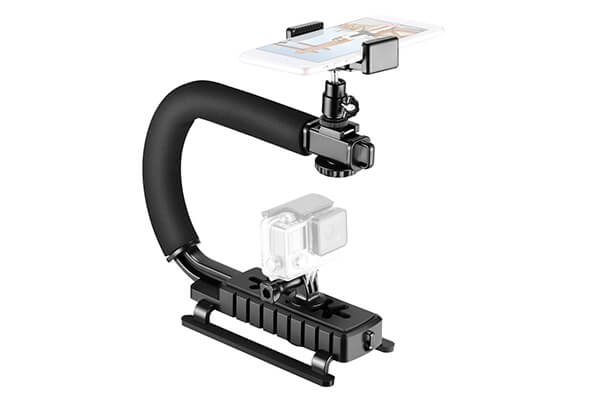 This is a 4-in-1 versatile hand stabilizer. It features multiple mounts that allow you to mount your camera, smartphone, DSLR camera, action camera and video light. This helps you to make low camera position image and videos with a movable scene or micro shoots. You can use it for an outdoor shooting since it allows you to attach your GoPro action camcorders and action cameras and use these gear when skating, hunting, motor racing, skiing, snowboarding, biking, among other sports where you will need stability.
With it, you can build an external monitor for your camera and monitor your shooting footage from the action camera or DSLR camera through the mounted smartphone. It has a removable mini ball head slot tripod adapter which you can use to attach flashes, LED light, microphones, monitors, in any degree. Therefore, this assures you of getting a handheld stabilizer with a lot of capabilities. The product features a cushioned rubber handle and an ergonomic C-shaped design that helps to alleviate longtime filming stress.
Pros
Greatly priced
Versatile unit
Durable construction
Comfortable to hold
Enhances stability when moving
9. 45 Degrees 3-Axis Motorized Gimbal Handheld Stabilizer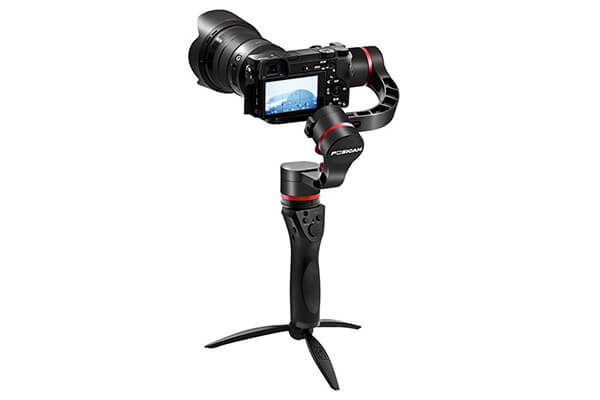 Featuring a 3-axis 360-degrees unlimited rotation, this stabilizer can sense every 0.02-degree change intervals with its automotive-grade magnetic encoders attached to each motor. Hence, this enables it to satisfy all shooting requirements be it upright shooting, low angle-shooting or a high flight photography. It is compatible with almost all cameras without mirroring cameras. The unit has a built-in wireless control module that lets you connect with Fosicam's gimbal remote controller or the smartphone APP for wireless control. Moreover, it has an Infrared control shutter for Canon, Sony, and Nikon cameras.
Pros
Easy to control
Helps to deliver smooth videos
It can charge Sony cameras
Comfortable handle design
8. YKS Handheld Camera Stabilizer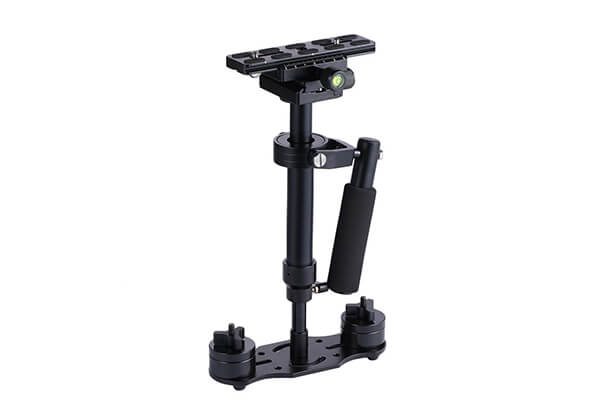 Are you searching for a stabilizer that will help to reduce shake and stabilize video on camcorders and cameras? If so, the YKS camera stabilizer system is a great choice. It is perfect for use when you need DSLR camera videos and high and low angle adjustable shooting. The stabilizer is compatible with cameras with a 1/4″ screw plate and a maximum weight of up to 4.8lbs. It features a durable carbon fiber material that makes it solid and lightweight to allow you to use it on the move. Moreover, the unit has an adjustable height to allow you to meet different shooting needs and an included bag that lets you take it anywhere. With it, you can be sure to do your installations fast due to the included CD drive instructions.
Pros
Reasonably priced
Comes with a carry bag
Quality build with fine finish
Includes adjustable weights at the bottom
Easy to calibrate the balance
Delivers a great performance
Cons
It is quite heavy
Doesn't include a mount for the phone
Plates are not super smooth when sliding
7. EFOTOPRO Pro Handheld Video Camera Stabilizer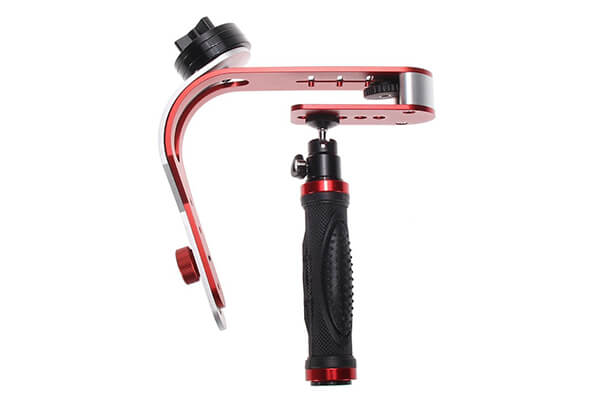 This unit is designed to allow you to mount your GoPro, camcorders, video cameras, smartphones, DSLRs and other cameras up to 2.1lbs. With it, you can be sure to record high-quality clear videos since it acts to provide stability and reduce camera vibration. It features an aluminum alloy construction that not only makes it durable but also lightweight to allow you to take it anywhere. The stabilizer includes a rubberized non-slip mounting hardware that enables you to attach your camera securely, to eliminate any shaking that may arise for clear and stable videos.
It features a 360-degree flexible handle and comfort grip to enable you to shoot your videos without struggling. More to that, the stabilizer supports four movable mounting positions. Hence, it lets you select the best position to assure you of the best photo and video results. With this unit, installing your camera is an easy process since you only need to select a hole to mount the camera and lock it up. The stabilizer is perfect for use when taking shots in cars, when running, skating, walking, and even through crowds and other places you need some stability.
Pros
Affordable
Well made and durable
Includes a comfortable handle
6. Neewer DSLR Movie Video Making Rig Set System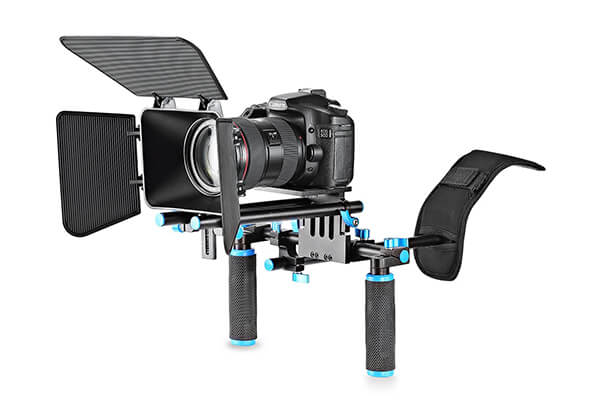 This unit is a perfect buy when you want a handheld stabilizer that fits many types of camcorders and DSLR cameras. It features good quality aluminum, ABS, and plastic materials with industrial standard sizes. This makes it lightweight and durable, and a unit that will let you use cameras of various sizes. The stabilizer comes in a package that includes a matte box, shoulder mount, and rail rod system.
The matte box features an adjustable top and side flags that help you to control the light in the lens. Hence, you can get rid of stray light that will disturb your image. It also has a height adjustment feature that helps meet all camera needs and anti-slip blue knobs for tightening. The included shoulder mount helps to alleviate pressure on the shoulder and enhance stabilization when mounting. The durable rail rod, on the other hand, helps to hold the camera to enable mounting of the tripod with the 1/4″ or 3/8″ screw thread.
Pros
Great price
Sturdy and lightweight
Comfortable to use
Comes with a great shoulder bag
Easy to set up
Connects to a tripod easily
Cons
Takes some time to set up
5. Neewer Aluminum Alloy Camera Video Cage Film Movie Making Kit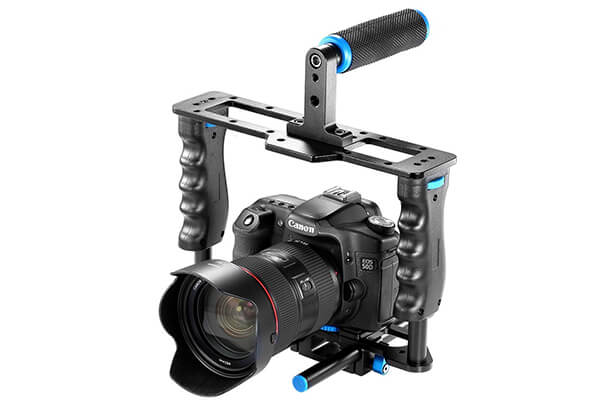 Featuring an aluminum alloy construction, this unit is lightweight and durable. Hence, you can carry it along and be sure not to get tired. It is compatible with Canon 5D markII, Nixon, Pentax, among other DSLR cameras. It includes 1/4″ mounting holes that make attaching different accessories a simple and fast process. More to that, it includes two adjustable rubber coated handles with a foam padding to make them comfortable for you to hold. The handles can spread apart to enhance stabilization. This unit is ideal for use by professional, and amateur cameramen and filmmakers.
Pros
Great price
Solid good quality materials
Helps to get a shot quickly
Plenty of ways to customize it
Easy to assemble and disassemble
Cons
Unclear assembly instructions
Nuts need to be screwed often
4. DJI Ronin-M 3-Axis Gimbal Stabilizer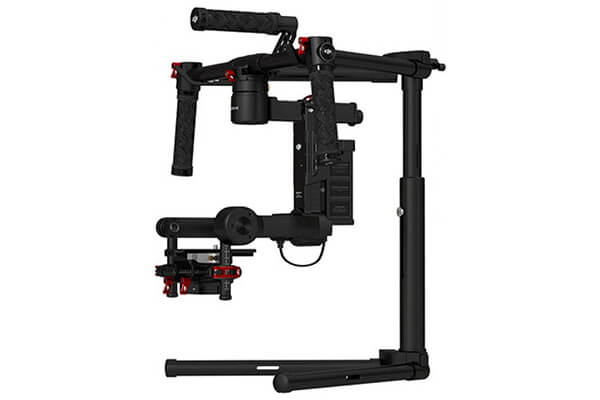 With a weight of 5 pounds, this unit is lightweight to allow you to fit it in your backpack and take it anywhere. Hence, you can be sure to have a stabilizer that will never limit your filming needs. Despite it being lightweight, it is strong enough to hold cameras with a weight of up to 8 pounds. It features three modes of operation that are easy to set without calling for you to adjust any settings or require a 2nd operator remote. Additionally, it is easy to mount your camera on the stabilizer since it takes less than 5 minutes enabling you to save a lot of time.
Due to the featured upgraded ATS (Auto-Tune Stability) technology, this unit enables you to complete the tuning and balancing process without the need for any tools. Moreover, it has top handlebars that enable you to achieve different shooting configurations. Once you get this stabilizer, you can be sure to have it serve you for a long period due to the strong and rigid magnesium frame that enables it to withstand rough treatment. The unit also features a SmoothTrack technology that ensures a smooth operation.
Pros
Solid gimbal
It captures stable shots
Compact and lightweight
Cons
No accessory mount for external monitor
3. SUTEFOTO S40 Handheld Stabilizer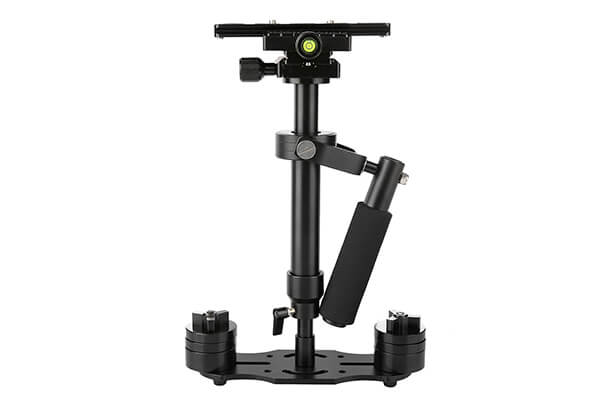 Featuring an aluminum material with a black powder coating, this stabilizer is lightweight and durable. Hence, you can take it anywhere while you can be sure to have a unit that will last for an extended period. It features a sponge handle making it comfortable to hold, and as such a great choice for long shooting sessions. The stabilizer is easy to assemble and supports cameras of up to 3.3lbs. It holds cameras securely to ensure that they can deliver clear images and videos. Due to the adjustable height, the unit enables you to fulfill different shooting needs and thereby to enable you to use it for high and low-angle shooting sessions.
Pros
Reasonable price
Lightweight
Strong and sturdy construction
Easy to add and remove weights
Includes a second mounting plate
Helps obtain smooth videos
Comfortable foam handle
Cons
Includes limited instructions
2. The OFFICIAL ROXANT PRO video camera stabilizer for GoPro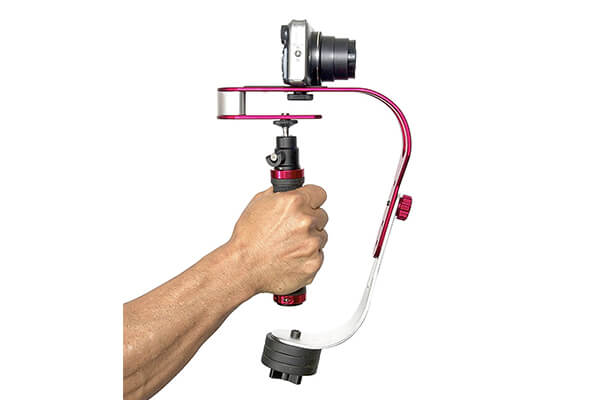 This stabilizer will help you shot like a pro. Thanks to the Pro-style stabilization that results to less motion and shake when using the unit. Additionally, it features the shake-free design and no-slip grip that eliminates sway when capturing photos. The stabilizer is compatible with video cameras, DSLRs, GoPros, smartphone and other cameras with a weight of up to 2.1lbs. It features a comfortable grip that allows you to use it for long photo sessions with an assurance of remaining comfortable. You can use the stabilizer when taking smooth motion shots, in cars, when walking, running, skating, on the stairs, among other settings where you will need a hand to ensure stability.
Pros
Great quality
Easy to set up
Compact and lightweight
Offers an excellent stabilization
Helps to deliver smooth videos
Aesthetically pleasing colors and design
Cons
Limited instructions
The main pivot needs frequent lubrication
1. The OFFICIAL ROXANT PRO video camera stabilizer Limited Edition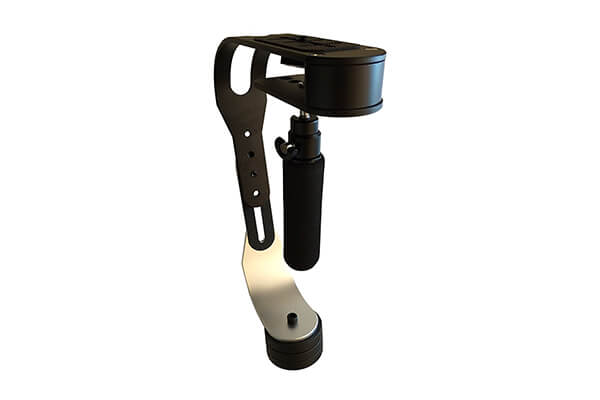 As the best handheld stabilizer for camera video in our review, this unit will let you capture your images and videos like a pro. Thanks to the pro-style design and no-slip grip that helps to enhance stability by reducing motion and shake to eliminate the lower arm swing. The stabilizer helps to capture clear images and videos even when moving on the stairs, through crowds, in cars, and when walking, running, and skating. It can hold DSLRs, GoPros, video cameras, smartphones, among other cameras with a weight of up to 2.1lbs. It features a lower center of balance that makes stabilization an easier process.
Pros
Great price
Easy to set up
Unit is well made
Compact and lightweight
Great color finish
Smooth to hold and stable when walking
Cons
Takes some time to set up
Conclusion
The gimbals reviewed above make the best handheld stabilizers for camera video due to their efficiency to provide you with the best quality photos and videos. So, try them out and spend on stabilizers that offer the best outcome for a little price.