Comparabit is reader-supported. When you buy through links on our site, we may earn an affiliate commission.
Smartphones in cars might be great, but they are a danger unless you get best phone car mounts available
Today's world is complicated and busy. Your car used to be a sanctuary where you had to think about things needing to be done on the job as you head into work. Unfortunately, your car is now becoming part of your workplace, and you need to keep in touch with the world. Your Smartphone now makes your vehicle into a mobile office. Where you can receive and send calls, text messages to family friends, clients, and coworkers.
You could try doing it one-handed while you drive but let's face it, that's way too dangerous.
Texting deaths are taking center stage in the media today. So, you need another option. We not only have one for you. However, we have 15 of the best ways to mount it to your windshield, dash, and even in your CD player.
That way you can drive safely and still be in touch with the world and everyone who matters in your life.
So, let us look at the 15 numbered in an order that shows our preference, though you might find one that is better suited your lifestyle and needs.
15. Beatrix Universal CD Slot Magnetic Smartphone Car Mount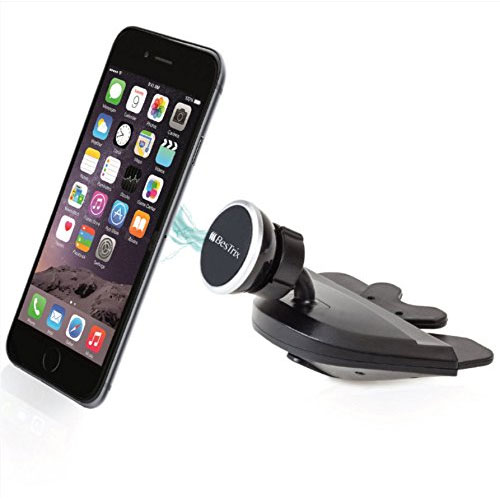 This mount is a bit of a unique way for mounting your cell phone by using your CD player as a mounting point for your smartphone. However, the idea works. You get along with the mount a set of adapters that ensure a tight, secure fit.
Then the magnet locks any smartphone to the mount that is so powerful that if you are not careful, you can remove the entire mount if you try to pull the phone away from the magnet's grip one handed. So, everything locks down nice and secure, and you can see the screen from any angle. A lifetime warranty is included
14. CARPRO 3-in-1 Universal Smartphones Car Mount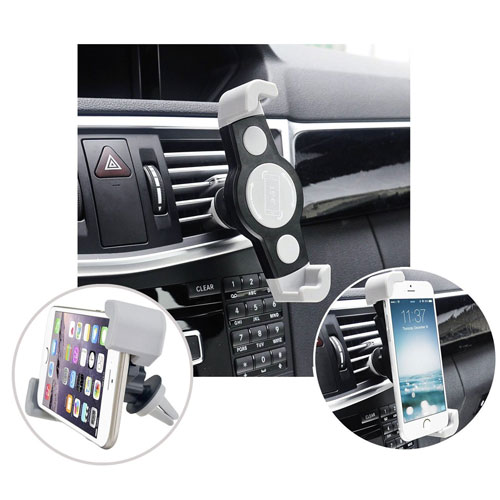 Dual mounting capability for AC vents or it attaches to your windshield via a powerful suction cup.
In this way, you can customize the universal mount to match the most comfortable position for you. Not only will it support most Smartphones by portable GPS units as well.
Therefore, now when you need to take a call you are not distracted from your driving, and you can use you Smartphones GPS/standalone GPS to guide you to your final destination. You get a 30-day full refund, Lifetime Tech support, and a 2-year replacement guarantee.
13. Jamron Universal One Touch Installation CD Slot Smartphone Car Mount Holder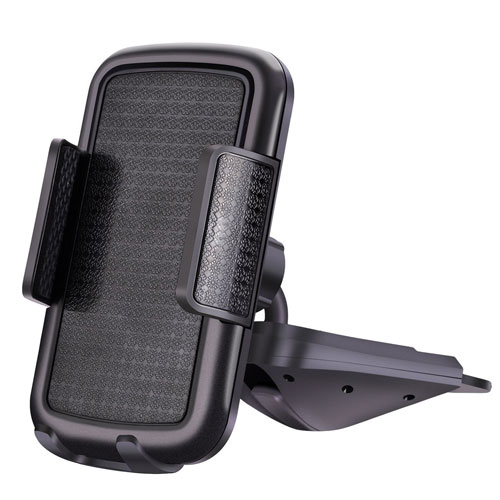 Not only can you mount your mount almost any Smartphone to your CD with ease. However, you can still listen to CDs as well. What's more, one-touch releases your Smartphone instantly when you get out of your car.
The universal mount cradles and protects virtually any Smartphone around or GPS unit for that matter as well.
It clamps it securely from the left and right as well as supports it from below. However, you can adjust it to the proper angle for the comfort of viewing, and none of your Smartphone's features are blocked in any way.
12. Kainnt CD Slot Smartphone Car Mount Holder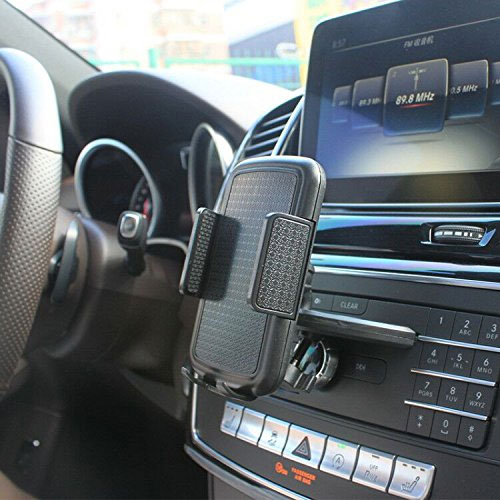 This model of CD mount is very similar to the previous one we have talked about, it too mounts onto your CD, and you have the same 3-point support system. The main difference is customer satisfaction, and its users are more comfortable with it, and they seem to be happier with it over the previous one.
11. Zilu Car Phone Mount, Cell Phone Holder for Dashboard and Windshield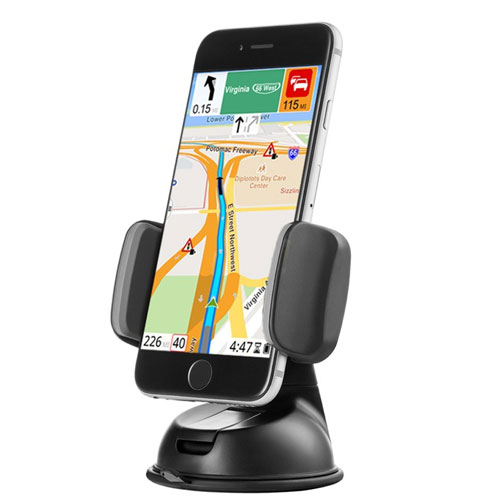 A gel pad lets the heavily padded mount to adhere to either your windshield. Not mounting kits or adapters required as it sticks wherever you place it.
It will fit you Smartphone or GPS unit equally well, and you need not worry about scratching, as it will protect you investment back and sides with a soft non-scratching synthetic material.
You can even take indoors. You then can use it on your desk. All you have to do re-moisten the gel pad and it will stick to almost any surface.
10. Mediabridge Smartphone Cradle with Extended Cup Holder Mount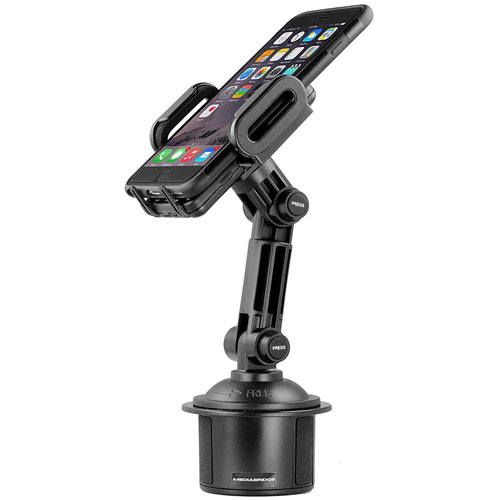 Here we have a double jointed with a 360-degree rotation that positions your GPS, iPhone, and Android device in almost any position you can imagine.
The neat trick is that this Smartphone mount fits into virtually any cup holder you design that you have in your car. Later of course, when you want a beverage all you have to do is a quick turn and a flip and you can drink your favorite coffee, soft drink, and any other liquid refreshment you choose.
9. Koomus Pro CD Slot Smartphone Car Mount Holder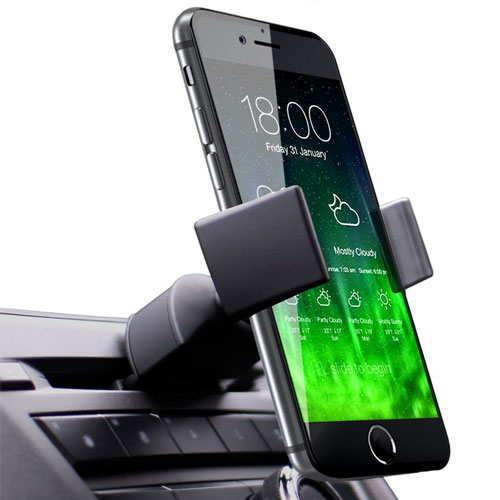 Designed for the 6 series devices and smaller you have a CD mount that has a two-point side support system that is ready to go when you are.
You, of course, can mount a GPS in place of your smartphone with no problems. You have 360-degree rotation and easy in easy out installation.
8. Koomus Pro CD-M Universal CD Slot Magnetic Cradle-less Smartphone Car Mount Holder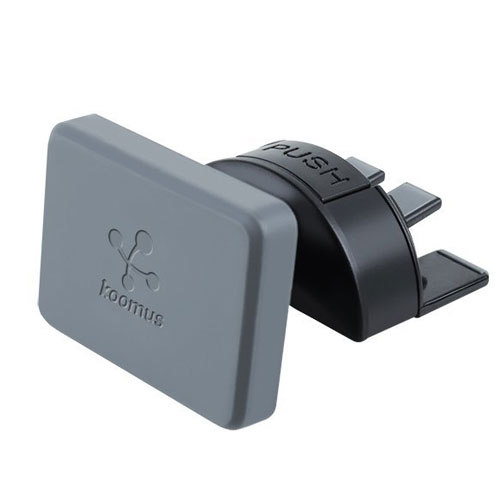 With the same easy in and easy out system that the previous Koomus sports, you now have a magnetic mount that lets you just stick your Smartphone into the holder the way you want it, and it stays in place as you travel down the highway.
Don't worry if your Smartphone has a plastic case. You get two self-adhering metal plates that can attach to the Smartphone itself or a case that encapsulates it.
Your phone will mount securely magnetically with no hassles at all. The plates can be removed painlessly when necessary as well.
7. Dashboard Mount TechMatte MagGrip Dashboard and Windshield Magnetic Universal Car Mount Holder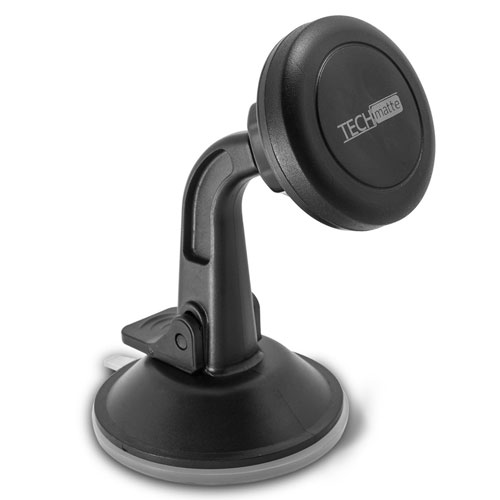 The power of vacuum mounts your Smartphone to dash or windshield as you choose when you have the mount positioned the way you want it a downward pouch on the vacuum control and your Smartphone is secured in place. The Smartphone itself locks into the magnetic grip of the mount, and you can adjust it to your liking.
It holds even when the road becomes uneven or gravel-strewn your phones stays where you put it until you decide to change its position.
6. Ipow Universal Smartphone Car Air Vent Mount Holder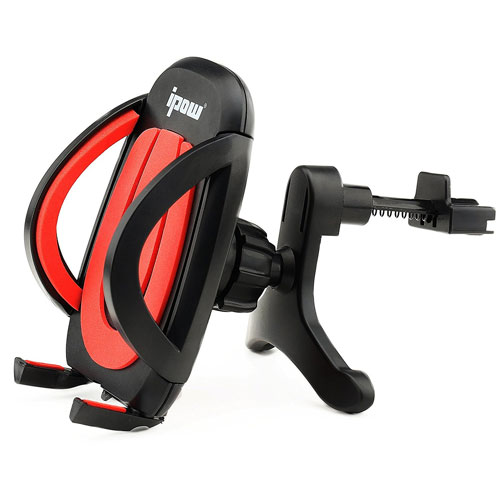 Colorful and striking in its ergonomically design. The 3-point support cradle mount from IPOW holds your Smartphone snuggly. It is fully adjustable and fit almost all the smartphones out there on the market up to 3.75″.
Therefore, if you need to use your Smartphone you have everything the way you want it, and even rough terrain would jiggle things out of true. It mounts to your car's vents and wouldn't let go for anything.
5. iOttie Easy One Touch Mini CD Slot Car Mount Holder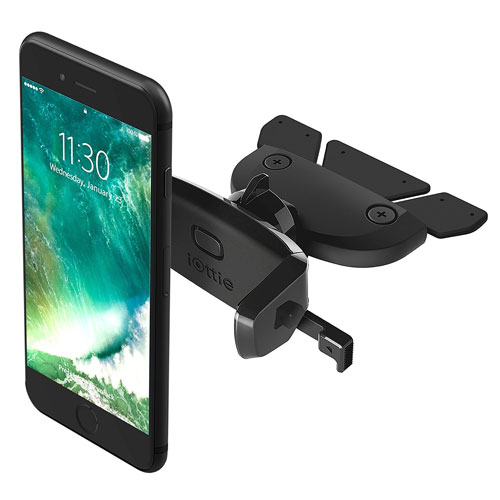 The One Touch Mini is a real Best Seller on Amazon with a mount that ensures that you Smartphone stays tightly where you put it. This CD mount fits in any car and with its one touch design you install, adjust, and drive.
From there you have no worries about your Smartphone jarring out of position. It is within easy reach when you want it. It also comes with a special bracket piece that doubly secures your Smartphone in place.
4. BE Universal Smartphones Car Air Vent Mount Holder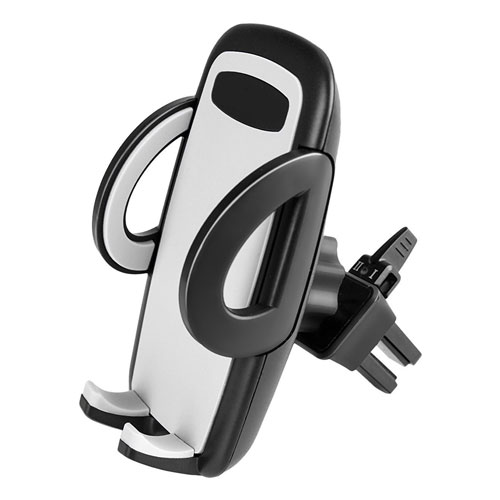 Heavily padded to protect and secure your Smartphone into position this AC vent mounted cradle gives you 360 degrees of rotation and lets you place your Phone into the most comfortable position for your eyes.
One touch in the right spot releases your Smartphone into your hand when you are at your destination.
Almost every Smartphone made will fit into this mount and so do many of the handheld GPS units as well.
3. iOttie Easy One Touch 3 (V2.0) Car Mount Universal Phone Holder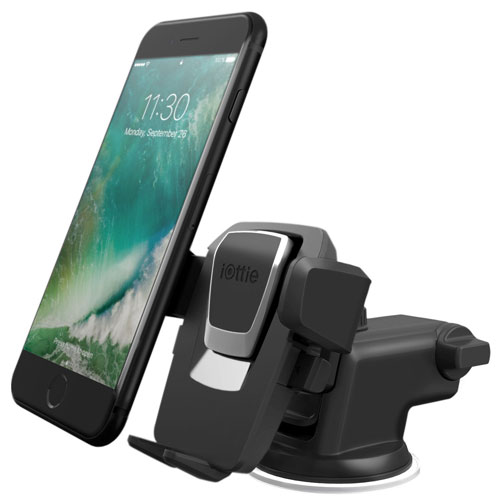 Gel Pad Technology at its finest; however, it may not work with vinyl and leather dashboards.
But the reason is so popular with Smartphone users is that it telescopes out to make it easier to see, Advanced Springs that hold it in position, and the fact it has a one-touch system that locks and releases you phone instantly.
All this adds up to making the iOttie One Touch one of the best Smartphone mounts on the Net today.
2. 2-in-1 Mobile Phone Car Mount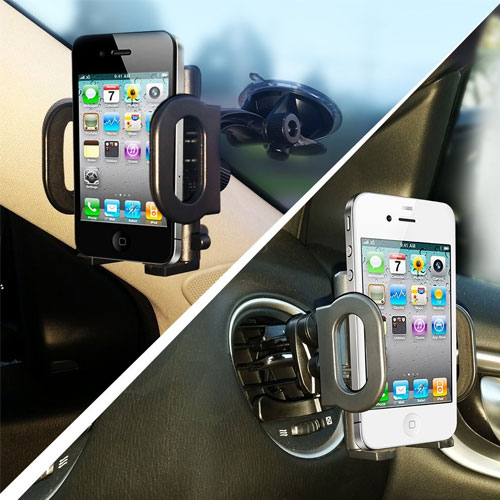 Go with Windshield mounting or your Air Vents as you chose. You then can put you Smartphone or GPS through its paces. This keeps you in touch with the world or navigating through it.
Ergonomically shaped and styled to match any car as well as most handhelds today. Here you have the pick of the litter when it comes to Smartphone mounting in your vehicle. The powerful suction keeps your phone firmly secured wherever you are driving, and heat or cold wouldn't bother it as well.
Therefore, when you want hands-free communication while you drive here is your answer in spades.
1. TaoTronics Car Phone Mount Holder

Our 1 pick for Smartphone mounting is a gel pad model that mounts on dash or windshields. It has a side-to-side hold that keeps it in place and swivels 360 degrees for the best viewing angle. It releases only when you want it to and installs in just seconds.
With TaoTronics, you have one of the most modern designs in a Smartphone mount ever. It is also padded to protect your phone from scratching putting it in and taking it out.
So when you are on the road, you are not only in touch with everyone, but you are doing in style with this windshield/dash mounting cradle from TaoTronics.
Final Thoughts
There you have it 15 ways to free up your hands to let you drive safely and still be jacked into the world around you. We feel the latest in Gel Backs is the way to go to allow the greatest flexibility in mounting positions and is easiest to put in place.
However, you might like a CD mount or AC vent mounting instead. The old style vacuum mount might suit you better depending on the make and model of your vehicle.