Comparabit is reader-supported. When you buy through links on our site, we may earn an affiliate commission.
From since the dawn of time, man has looked to the skies and wondered and marveled
Now you can stop wondering and start exploring the heavens. Today we have a selection of 10 of scopes that deliver the best telescope for viewing planets. You have a list of 10 found on the Net, and you can choose the one that lets you go beyond this world.
You become an armchair astronaut without having to go to the Cape, Russia, and China. There, to be strapped on top of a giant Roman candle and be blasted out of the Earth's gravitation field into the dark. Instead, you can go outside, spend a quiet evening looking at the planets, and see what all the mystery is about.
The future of energy and wealth and expansion is upon us and with one of the 10 telescopes presented to you today. You can do your part of mapping and be exploring the "Ultimate Frontier."      So let's get started with that exploration with 10.
10. Coleman 400×70 Telescope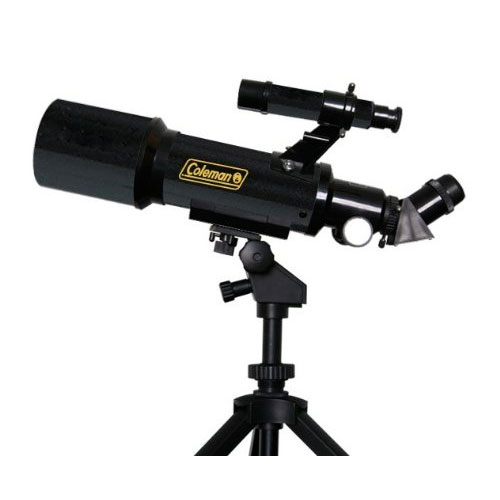 Coleman is one of the favorites of the stargazing community. This 400X70mm telescope is great for the person who loves looking at the sky. It is color corrected and with its 40X magnification brings the moon's craters, seas, and other features into sharp focus. Precision focusing control is made possible with a rack and pinion system that provides you crystal clear Viewing.
It and its tripod all breakdowns for easy travel and it all fits in the carry bag that comes with it.
In addition, you get a free copy of Starry Night that if you want to study the sky in detail, your PC tell you what you are looking at along with where to point your scope.
9. Orion StarBlast II 4.5 EQ Reflector Telescope Kit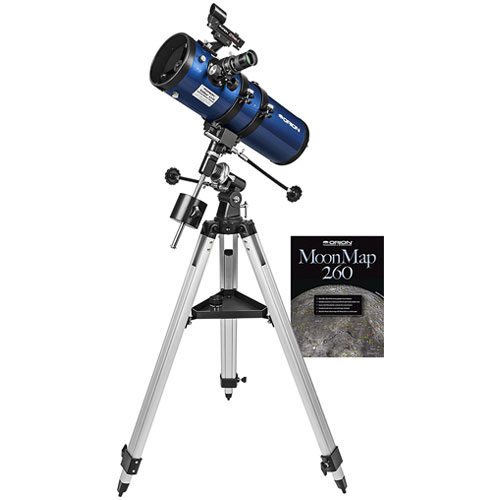 For those who are series about their star gazing, Orion offers you a 4.5″ Reflector Telescope with all the trimmings. This is the perfect gift for a newbie sky watcher and has a Finder II to help you align your scope with your object of interest.
Also, you have 3 great assists that get you going in the right direction.
– The Telescope Observer's Guide
– You also receive a copy of Moon Map 260, which details the moon and where to look
– Orion's very own Star Target that shows you were to find 100 of the best Deep Space attractions
To make things even easier for you, they include a Barlow 2X doubler to go with the 2 included eyepieces.
8. Orion SkyQuest XT4.5 Classic Dobsonian Telescope Kit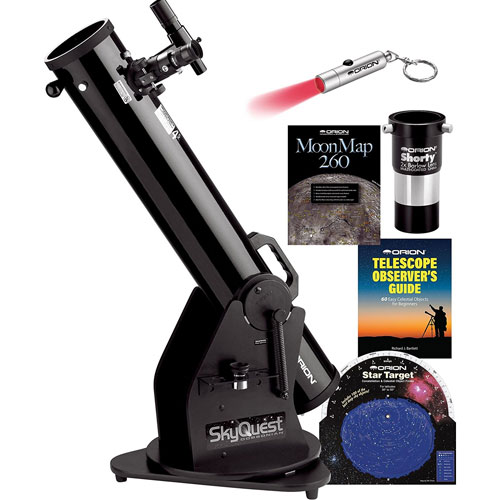 A 900 mm focal length and a 4.5″ diameter reflective surface at the bottom let you see the universe up close and personal. Not only does this Bosnian reflector bring features so close you feel you are there. But, with the add-ons which were detailed earlier with the Star Blast II.
You also have the advantage of a scope that collects a whopping 260% more light than the 60mm scopes that most beginners cut their teeth on.
This brings the rings of Saturn and the moons of Jupiter into clear view. The "Red Planet" Mars is no longer a mystery to you.
7. Carson Red Planet 50-100x90mm Refractor Telescope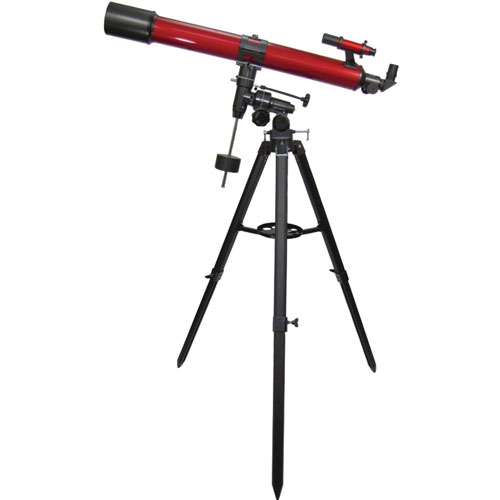 From Carson, we have a refractor named after the Red planet Mars. It is aptly named as it makes it a snap viewing the planet of war with its 50x-100x 90mm aperture main lens.
You can go even to Saturn and see the rings as they glisten in the dark. You have an EQ mount that lets smoothly locate the planet of your interest. The International Space Station is easily seen, and the moon allows you see its age-old meteor-scarred face closer than ever.
Made for the intermediate level observer, you can watch the heavens with style and panache. Enjoy looking at the wonders of what the universe has to offer.
6. Celestron AstroMaster LT 70AZ Refractor No-Tool Setup Refracting Telescope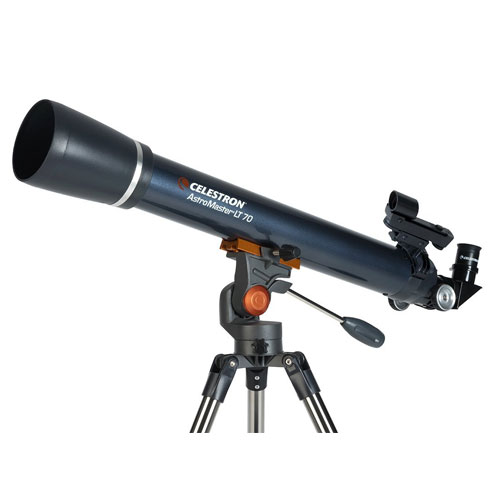 Easy to sup and from there you can explore the reaches of our nearest neighbors and beyond. This is a good beginner scope and lets you get out to Jupiter no problem or watch the birds on a nearby beach. So, it doubles as an astronomical and terrestrial telescope that let you explore your world. The lens are coated and provides you with distortion-free night viewing.
This Newtonian Refractor gives you a clear view of near earth orbit objects as well. You can watch the ISA and see satellites as they whirl around the earth.
5. Orion 09843 SpaceProbe 3 Equatorial Reflector Telescope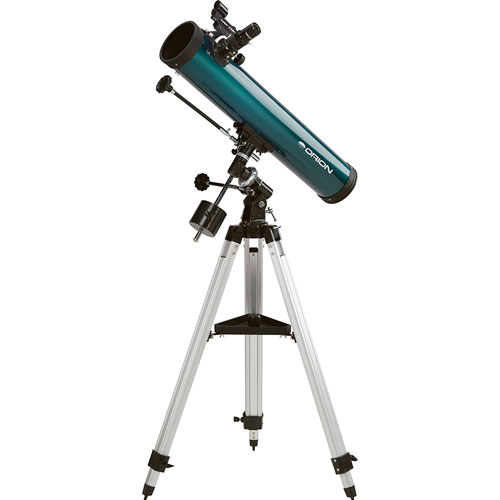 An ESQ Mount lets you stay locked in for steady viewing of objects while the earth is moving through space. You get two lenses that provide you with a 28X and 70 X views of the heavens.
The Starry Night software turns your laptop into an Astronomy lexicon and planet/star locator. If you add an ASCOM, drive to your mount, your laptop can move your scope into perfect aliment to see what you want and from then on, stay locked on to it until you've made your observations.
A great newbie's Refractor that opens up the universe for inquiring minds.
4. Orion 9024 AstroView 90mm Equatorial Refractor Telescope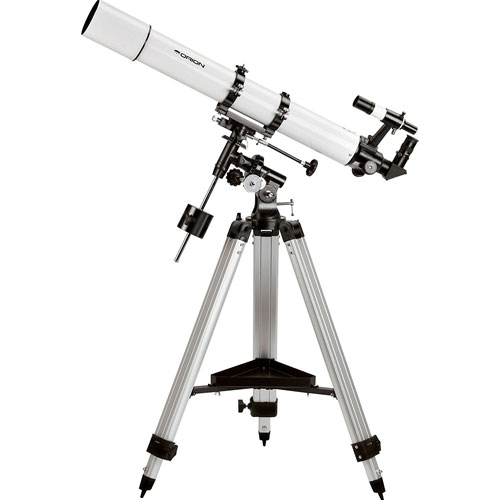 You now have a 90mm opening on the tube along with 910mm of aperture that provides you with a scope that makes the universe come much closer than you ever thought possible to do.
You are treated to crisp imagery, and the Equatorial mount lets your Strove track in sync with the earth's rotation. Two lenses, tripod, and the Starry Night software round out this package, and if you add a correct-image diagonal (sold separately) in the daytime, you can have fun birding, see the scenery, and watch the daytime world as well.
3. Orion 10012 SkyScanner 100mm TableTop Reflector Telescope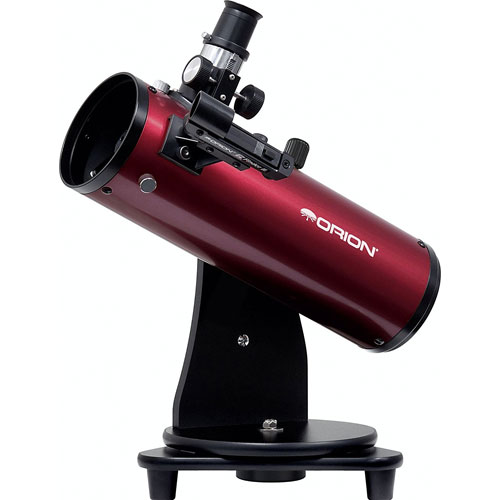 If you did not have a backyard, you can still see the wonders of the universe with a 100mm tabletop tube that takes to the rings of Saturn and out to Jupiter's Great Red Spot and its moons.
40X max viewing lets you see the moon with perfect clarity, observe all the features, and perhaps locate where Americans first set foot on the moon with the help of Starry Night software package. From there you can use the spotting scope to find many other things of inert such as Prometheus crater and the many Maria or dark plains of the moon.
In the 17th century, they were thought to be seas on the moon. Now we know the truth, and soon robots will go to the moon and bring back more material from their hidden depth. However, you can see it all for yourself.
2. Celestron 31051 AstroMaster 130EQ MD Telescope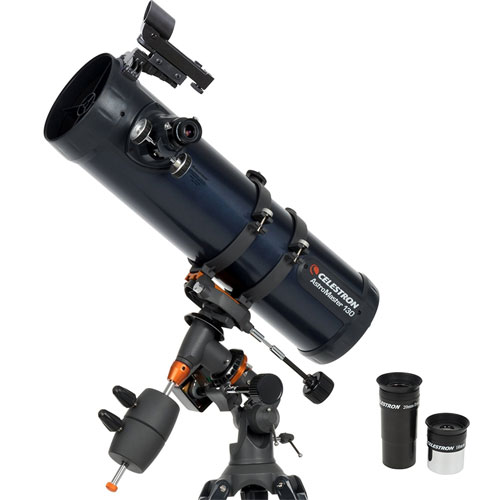 Celestron's AstroMaster not only tracks accurately with its ESQ mount. It also will automatically follow the object you are looking at.
The Celestron 31051 AstroMaster comes with "TheSkyX – First Light Edition" astronomy software with a 10,000 object database, printable sky maps, and 75 enhanced images. This then will point you where to look but move your tube to the best position to see it as well.
The tripod holds everything rigidly in place, and German engineering makes the ESQ mount track smoothly without Kettering.
If you see something on your own the built in Star Pointer Finderscope zeros you are target quickly and easily.
1. Celestron 22065 Astro Master 102AZ Refractor Telescope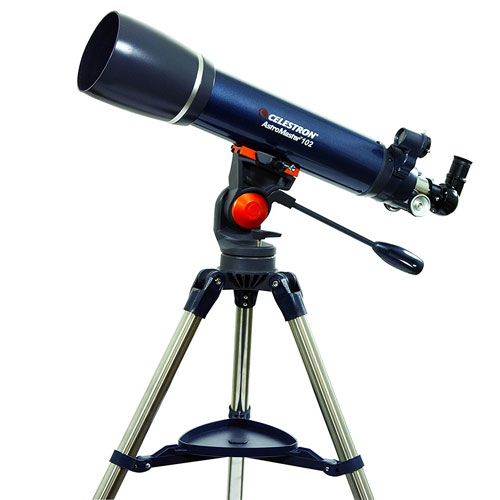 120mm aperture and two eyepieces let a person explore the planets and see far away galaxies and nebula with clarity and crispness. A Red Dot Finderscope helps you line up on the planet or another celestial body you want to look at and study. Space is there for your exploration and enjoyment.
Celestron makes it easy with a telescope that sets up in just a few minutes and then you can scan the night skies reveling in all the beauty and wonder out there to behold. You might even be the one who settles the 10 great mysteries of the moon or whether a rabbit or an Aztec maiden is up there alone.
Final thoughts
Select any of the 10 telescopes we've looked at today a when you use it the first time you will become a Galactic Groupie, and you will embark on a lifelong hobby.
Amateur Astronomy is growing. June 30, 2017, Buzz Aldrin (The Second Man to walk on the mood) was next to president when the Space Council Executive Order was signed. The space program is being yanked out of obscurity, as finally American again recognizes it needs to take the lead in space exploration once more.