Comparabit is reader-supported. When you buy through links on our site, we may earn an affiliate commission.
If you have been searching for the best water ski, it is no doubt that you have passed through lots of challenges trying to get the best. Getting the right water ski can be challenging due to the many models on the market that claim to be the best. However, you can manage to locate the right water ski that will give you the best experience with some knowledge of what to look for in one. As such, let's find out to select the best water ski.
First, you need to get the perfect length. You can determine this by your weight, so be sure to ask for a length that suits you based on your weight. Second, you will need to determine if you are a beginner, intermediate, or a professional rider. Based on your skills in this sport, ask your supplier to get you that with features that will make you comfortable. What's more, determine your speed. If you move at a lower speed, you will need a ski with a larger surface area to keep you on water. Finally, determine the durability, the boots, and bindings, and ensure that you can get a water ski that will fit your foot perfectly.
After considering these factors, its now time to get to the real search of a model that will fit your desire. In our coverage today, we have decided to make this process easier for you by reviewing the top ten best water skis in the market. Have a look at them and be sure to consider at least one of these while making your purchase.
10. 2016 HO Syndicate V-Type R Slalom Waterski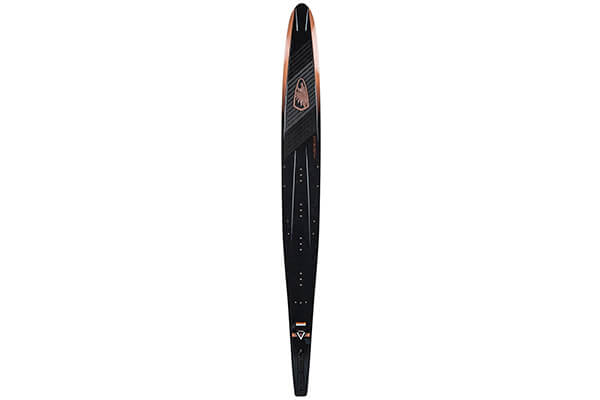 This water ski is designed to offer you balance and stability. It features a V-type rocker line, designed with a progressively changing elliptical arc. As such, it delivers improved fore stability and increased velocity due to the large radius arc in the ski center. What's more is that it offers quick and tight radius turns due to the smaller radii arcs in the tip and tail.
This water ski constitutes a matching ski width, where the width perfectly matches to the elliptical rocker line. It is parallel to the center, whereas the width is increased in the tip and tail where the elliptical rocker is curved. The result of this feature is a greater stability and balance when you roll it to the edge. The ski features a Superlite construction which is a combination of aerospace carbon fiber and Superlite core technology.
When using this ski, you will note an inspiring quiet feel. The reason behind this is that it features a strategically located tip weight with an elastomer damping pad. These dampen the natural frequency of the ski resulting in increased stability while reducing the tip noise caused by rough water at high speeds. This product features an advanced laminar ski base that results in reduced ski drag and increased ski speed.
Pros
It offers great stability
It operates quietly
It is not heavy
9. HO Sports Water Skis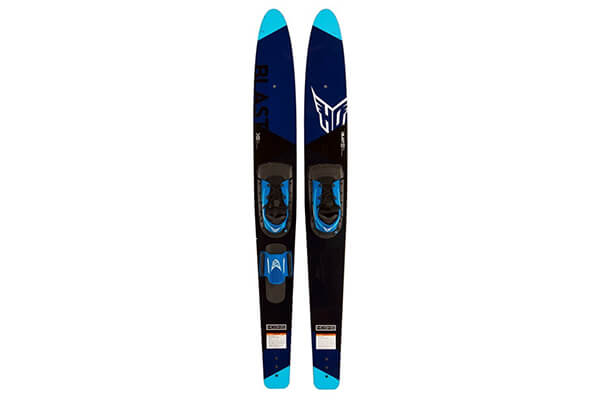 This item is suitable for the whole family use due to the adjustable horseshoe boots as well as its 3-ski lengths. It features a V-bottom technology that incorporates a V-feature similar to a boat hull running down the center portion of its bottom surface. As such, you can remain assured to get much stability both in the deep water and open water cutting.
It comes in three lengths so that it is suitable for persons of different weights. These lengths include a 59″ for skiers less than 120lbs, 63″ for skiers between 70lbs to 150 lbs, and 67″ for those over 110lbs. Another plus of this water ski is the adjustable horseshoe boots which are comfortable on the feet. The boots feature a floating tongue design to enhance comfort and adjustability as well as a front lacing design to increase easy entry and performance.
Pros
It is comfortable to use
It is reasonably priced
Great for beginners
Suitable for people of different feet sizes and weight
It features a rear foot pocket for a slalom
8. O'Brien Jr. Celebrity Kids Combo Water Skis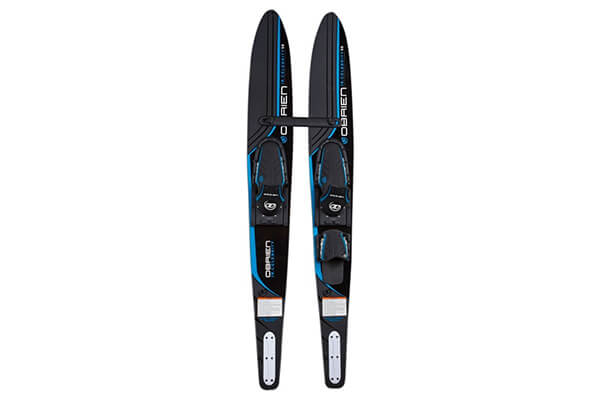 As one of the best water skis, it is perfect for beginners and learning slaloms. It features a stabilizer bar which aids in learning so that you can begin your learning in deep water. You can remove this bar once ready so that you can continue using it without having to get a new one once confident of your skiing skills. The ski has a 58″ length and is ideal for skiers up to 120lbs. It features durable 600 adjustable bindings which make it fit for kids and adult feet.
Pros
It is easy to use
It is durable
It is perfect for both kids and adults
7. Connelly Aspect Slalom 2019 Water Ski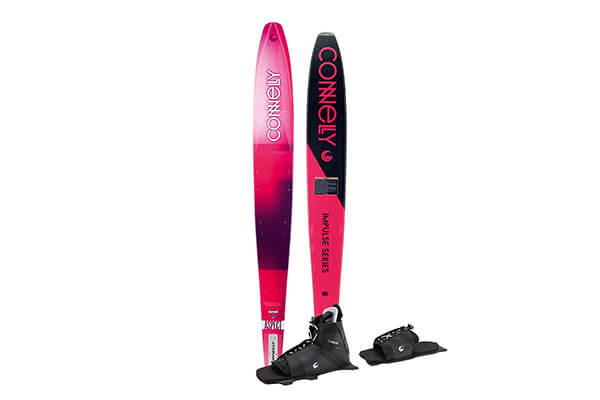 This is one of the best water skis for those who need the maximum fun while skiing at lower speeds. It is an ideal product when you need the best performance at 28 to 32 mph. It features sharp bevels on the wide forebody which help at adding support on aggressive turns. What's more is the six V-shaped steps that bring about an efficient water flow from the front bindings to the fin. Hence, you do not have to strain to enjoy a fast and responsive performance.
This product features a robust construction that includes a closed-cell polyurethane resin core finished with a fiberglass wrap and a polished base. It also has an aluminum drop through the fin aimed to improve its durability. This item is available in three sizes. There is the 65″, 67″, and 69″. As such, you can be sure to get one that is perfect for various skier weights ranging from under 180lbs to over 220 lbs. The skis come with a user manual to give you an easy time while you are a first time user.
Pros
It is durable
It is easy to use
It does not need a lot of effort to operate
6. O'Brien Performer Pro Combo Water Skis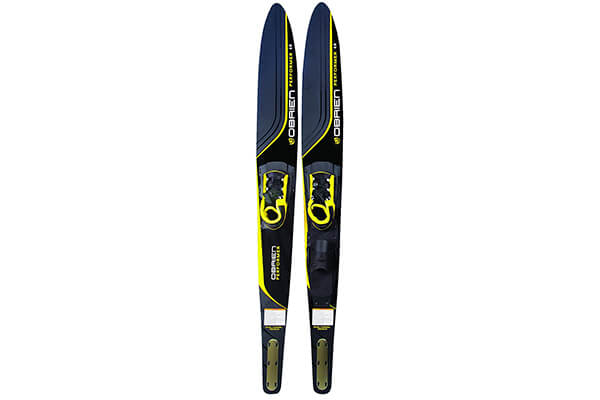 This ski has a 68″ length and 19 pounds weight. As such, it is light to make your experience fun and less tiring. This unit features X-9 bindings, which help get your feet close to the water while improving performance. The ski has a metal flush fin which adds to its durability. You can use it for men feet sizes ranging from 7-13.
Pros
Bindings are comfortable and secure
High-quality construction
It is not heavy
5. Rave Rhyme Adult Water Ski Combos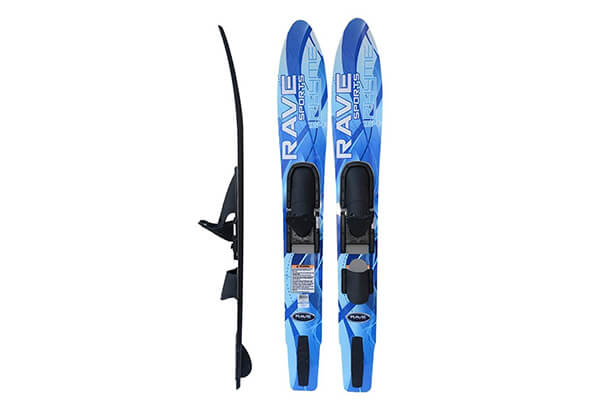 Are you over 125 pounds and looking for the best water ski? You might need to consider this one. It has a 65″ length, and designed for riders above 125lbs. It is suitable for beginners since it features a design that makes it is easy for adults to learn with a lot of ease and confidence. You can use it for deep water learning since it gives a lot of balance and control. The ski includes a slalom toe so that you can use it once you advance your skills. With adjustable bindings, it can fit a wide variety of feet sizes, while it's soft-step inserts enhance comfort and support.
Pros
It provides stability
It is well made
Boots are soft and easy to adjust
4. Rave Kids Water Ski Trainers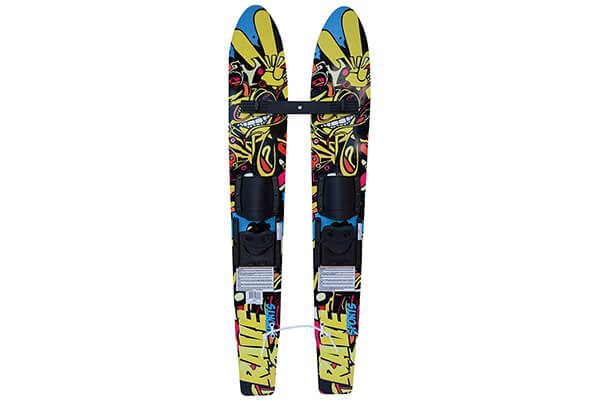 Do you want your kids to be part of your skiing activity? If so, you will want to get this RIM constructed water ski. It supports a young skier weighing 50-90 lbs and lets him/her learn with a lot of confidence. The reason behind this is that it features a wide design with a stabilizer bar. As such, it makes your child stay stable through the whole activity. What's more is that it includes a unique handle system that will allow the skier to hold one handle while the instructor controls the other from the boat. This ensures the safety of your kid making him more comfortable. The ski measures 46″ and features double-density side bindings. These are soft and ridged on the inside for better ankle support.
Pros
It is well built
It is stable
It is easy to control
Slide binding is easy to adjust
3. Rave Pure Adult Water Ski Combos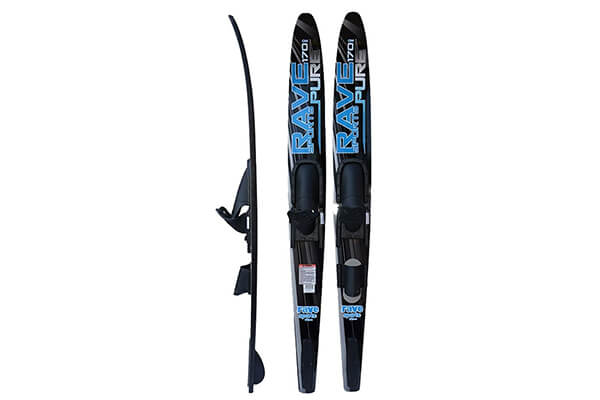 This water ski is suitable for use by intermediate riders. It includes a lot of features that will enable such persons to advance their skills and techniques quickly. The ski includes a square nose and narrow fin for better traction. It is constructed from RIM molded polyurethane material reinforced with a fiberglass with a plastic laminate top. The ski includes adjustable bindings with soft-step inserts that offer comfort and support. What's more is a slalom toe which is a perfect plus for use by the rider once he/she wants to enhance his skills. The ski is 67″ long and suitable for skiers over 125 pounds.
Pros
Easy to get on without a competition boat
It provides a better traction
It is comfortable to use
2. O'Brien Reactor Combo Water Skis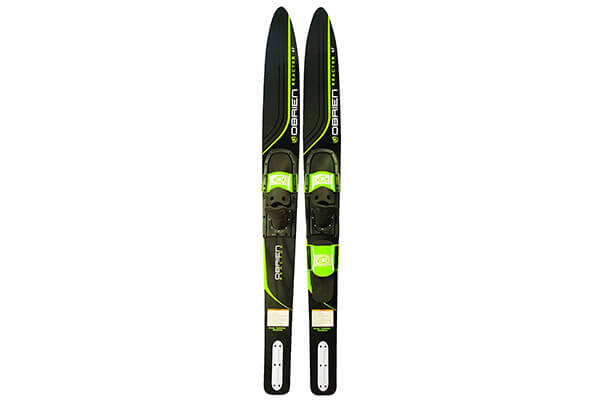 This ski is perfect for use by beginners. It features a wide tail, forebody, and tunnel channels for improved stability and performance. It includes 700 adjustable bindings that make it perfect for use by individuals in your family with a feet sizes ranging from 4.5 to 13. The ski has a length of 67″ and includes a plastic fin that aids with tracking while riding behind the boat.
Pros
It comes with a great price
It is comfortable to use
It can fit several feet sizes
It is highly stable
1. Supersport Combo Waterskis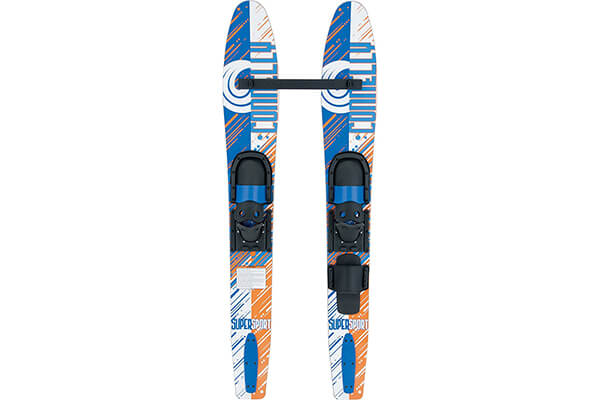 As our top pick in our top ten best water skis, this ski stands out due to its advanced features. It measures 7.7 x 8 x 56 inches and has a shipping weight of 18 pounds. The ski includes adjustable slide bindings that make them suitable for every rider. The ski also features a glass filled nylon fin that helps to give more control while ensuring that it faces the right direction. The ski is best for skiers under 135lbs.
Pros
It can accommodate persons of different ages
It has a broad and stable shovel hence easy to maintain balance
It is comfortable to use
Conclusion
The coverage above should guide you in making the right purchase when you need the best water ski. Be sure to make the right choice based on our review for you to make a worthy investment.