Comparabit is reader-supported. When you buy through links on our site, we may earn an affiliate commission.
Most people don't understand the functions of a router. Well, this small device sits between a modem and a computer. Most standard routers look like modems. Their function is to take information from your modem and feed it to your computer. Routers can take data from different networks and deliver them to multiple computers. That means individuals can share the same internet connection on different devices.
Well, routers are not mandatory. But several reasons can make you consider having one, including if you want to use several computers in your home simultaneously without buying an internet connection for both. Also, routers will be useful for people who operate their laptops wirelessly in their homes. Again, as routers add some extra level of security to your internet, you can consider buying one.
But purchasing routers is not easy, especially with the many brands available today. Individuals should thus consider some factors to ensure that they get excellent routers. Ensure that it has a dual-band setup that will enable the transfer of information over different radio frequencies. It's also wise that you invest in a wireless router that offers a long coverage range, especially if you want to use it from far distances. Additionally, good routers should have multiple gigabits and USB ports. They should also have fast speeds.
But even after knowing these features, it still can be challenging picking a suitable router for your home. That's why we have put together this list of the best wireless routers. As we've tested these devices, we're confident that they're up to the task. Here are top ten wireless routers available today.
10. TP-Link N450
It's an affordable router with strong performance and excellent feature set. As it offers 2.4 GHz throughput, it performs better than other models of a similar price range. Plus, it features a single band Wi-Fi with multiple management settings such as remote management.
On its front side, it has LED status indicators that show power level, internet activity, Wi-Fi signal, as well as WPS activity. This device also comes with 4 Gigabit ports and one internet port.
Individuals can change settings through the included CD, or you can also use the web management console as it gives you both basic as well as advanced settings. Overall, this is a good router as it is affordable, performs well, plus it's easy to install. The only drawback is that it doesn't have USB ports.
9. Wavlink AC1200
If you're in search of high-speed routers, look no further than this model. Wavlink AC is a high-performance device that offers fast 1200Mbps speeds of dual bands. It comes with four antennas, which makes it ideal for online gaming, HD video streaming, etc.
Again, this device features 4 LAN ports and 1 WAN port, which makes it easy to share the Ethernet. Installation is easy as it has step to step straightforward firmware setup. One thing that makes it stand out from many routers is that it supports different broadband functions, including PPPoE, static IP, etc.
8. TP-Link Archer C60 Ac1350
This is a recent release from TP-Link, which comes with five antennas and is a dual-band router. We love it because it comes with all features one could need from their wireless router. Plus, its design is beautiful hence will complement your gaming setup or room. One can operate it either on a single band or dual-band to increase the connection range.
Apart from fast wireless internet speeds, individuals also get 4 Ethernet LAN ports. It also comes with a guest network feature that enables visitors to connect to your internet without risking your privacy using the WPS-PSK/WPA2PSK2 encryption.
7. Mikrotik Routerboard rb2011uias-2hnd-in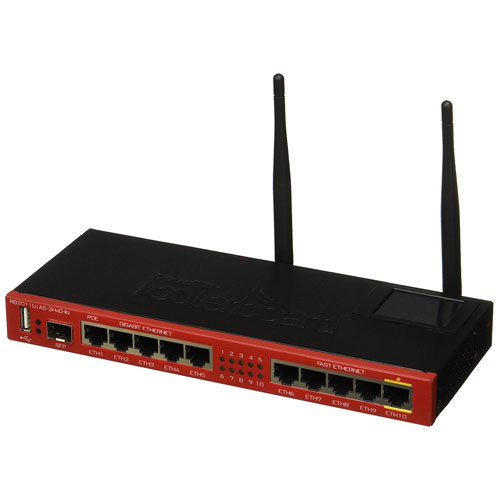 There are many reasons we love this model. One is that it comes in several configurations, including a rack mount and an SFP port. Also, it features RouterOS, which allows individuals to install it on an x86 machine and turn into a router. Unlike the ones we have reviewed above, RB2011UiAS-2HnD-IN features a micro USB Port. It also comes with power supply, desktop enclosure, two indoor antennas, and an LCD screen display.
6. Mikrotik RouterBoard RB962UiGS-5HacT2HnT, hAP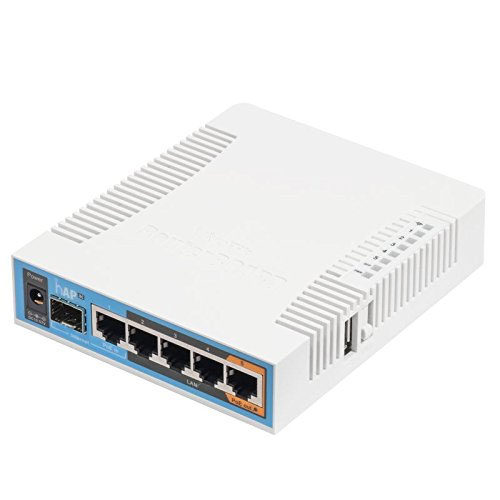 For those looking for a universal office/home wireless device, this hAP model will serve the purpose. It's a dual-band router featuring Gigabit ports, which allow individuals to take advantage of the 802.11ac technology speed on their devices. This model features omnidirectional antennas, which means you can mount it on any location. Additionally it is a high power transmitter hence one can comfortably use on their devices whether at home, office or public places. Plus, it includes a USB port where individuals can attach extra storage.
5. TP-Link AC5400 Tri-Band Gaming Router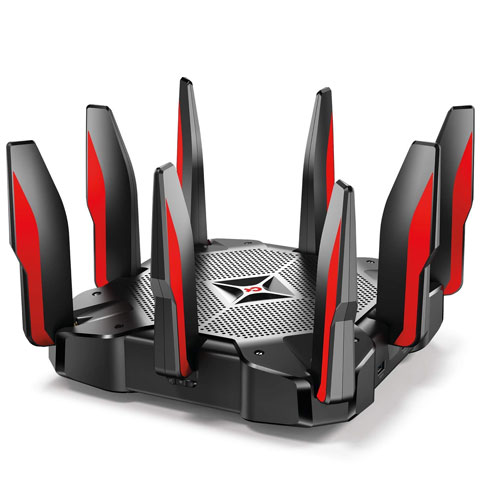 Although it's an expensive router, it offers fast speeds, an extensive coverage range, and comes with inbuilt security. It is rated among the best Wi-Fi routers around since it provides high performance. This model features a unique square and flat design, with a 9.5 x 9.5 x 2.2 inch base. Although it doesn't have antennas, it comes with MU-MIMO that allows connection with multiple simultaneous devices so consumers can adjust the transmissions. Furthermore, this router is able to deliver 1Gbps.
4. ASUS Gaming Router Tri-band Wi-Fi
This is a first speed router for gamers and power users. It's the first Wi-Fi 6 class router that can accommodate several wireless devices simultaneously. This model creates the newest network which can tap into the latest wireless techniques such as Orthogonal Frequency Division Multiple Access (OFDMA). It also comes with a chip which has a 1.8GHz processor, 1GB RAM and 256MB space for storage. Again there are LED indicators that display what's happening inside that is, power level, WAN connection, active bands, LAN data movements, etc.
3. Linksys WRT AC1900 Open Source Dual-Band
It has powerful hardware that delivers high performance at a long-distance range. It also offers fast network storage speed. Plus, it has an excellent retro stack design. Although pricey, this router runs quietly and needs low maintenance. It is a three-stream router meaning it features a top speed of 1300mbps on 5GHz, plus it has several LED status lights that display your router's activity.
2. NETGEAR Nighthawk X 10 Smart Wi-Fi Router
This MU-MIMO equipped device delivers a high 5GHZ throughput and fast speeds of 60GHz. Although it is expensive, it has quick transfer speeds that are best for large homes. It comes with four antennas, which means you can position your router in any direction. Also, it features blue LEDs that light up whenever the radio speeds are active. Again, there are several LED indicators that display the activities on your router.
1. Netgear Nighthawk AX12 Wi-Fi 6 Router
Delivering a blazing 5GHz throughput performance, multi-gig LAN, and WPA encryption, this router is perfect for those who want to experience the Wi-Fi 6 network. It measures 6.5 X 13.5 X 8.5 inches and has a stylish matte finish. At the top, it contains LED indicators, two USB ports, and WPS buttons. It also has 4 gigabit LAN ports for high-speed Ethernet connectivity.
Conclusion
Well, considering that the market has many routers, it can be difficult to find the best wireless router. That's why lists like these are essential. We have considered things such as customer needs and their budgets when writing this list. We, therefore, hope that it'll help you choose the best wireless router as per your budget. Note that there is no such thing as a perfect product for everyone. That's why each router is designed to meet the needs of different customers. This list contains routers for both networking elites as well as budget-oriented shoppers.